Former Indian cricketer Vinod Kambli's wife Andrea Hewitt has landed in some legal trouble after Bollywood singer and music director Ankit Tiwari's father R K Tiwari filed a complaint against her.
According to a report by Mumbai Mirror, the couple was at Inorbit Mall in Malad. Ankur Tiwari (Ankit's brother) was with his father at the time of the incident. It is alleged that the 59-year-old man brushed his hand against Andrea. The couple punched the singer's father and Andrea then took off her sandal to assault him.
The matter is being investigated by Bangur Nagar police and no arrests have been made so far.
Talking about the incident, Kambli told the daily, "We were at the Game Zone in the mall around 3 pm when my wife caught hold of an old man's hand. He had deliberately brushed his hand against her and when she caught him in the act, he pushed her away. Minutes later when we were at the food court, two men, who we assume were the man's sons, tried to attack my wife. When I told them to back off, they told me, 'You don't know who we are'."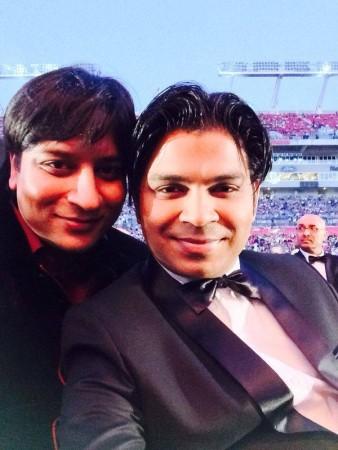 Kambli's wife Andrea told the Daily that Ankit's father touched her inappropriately.
She said, "I was playing with my children when this guy took the opportunity to rub his hand against me. Maybe he thought nothing would happen because it was crowded. When I caught his hand, I was surprised to see this old man. He appeared embarrassed because I had caught him red-handed. He appeared scared, and said something in Hindi, on the lines that 'I cannot do something like this',"
"The inappropriate touching ka zamaana is over. Such things should be dealt with strictly," she added.
Kambli revealed that he had tweeted about the incident, after which the Bandra police had visited his residence around 8 pm on Sunday to talk about the issue.