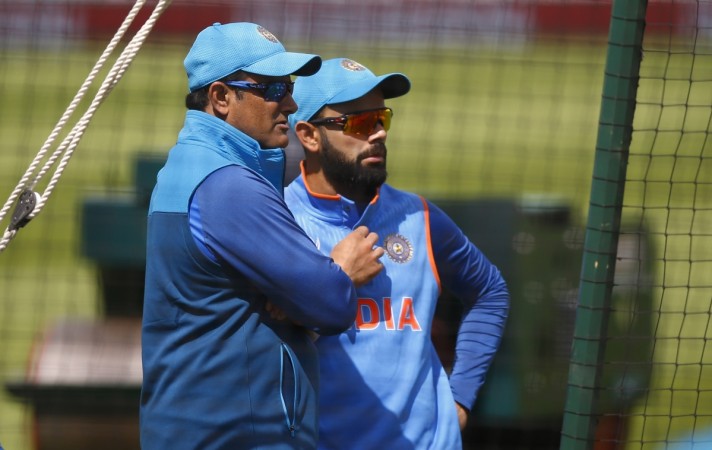 For the first time since stepping down as India's head coach, former captain Anil Kumble has spoken about Virat Kohli-led side ahead of the South Africa Test series.
In June this year, after the ICC Champions Trophy, where India finish runners-up to Pakistan, Kumble quit as the coach due to differences with captain Kohli.
Also read: Kumble on 'WhatsApp group' with journalists
Since then, he has maintained a dignified silence. He had not spoken or written on social media about the Indian team or the performances. Earlier, Kumble used his Twitter page to congratulate the team but since the controversial exit in June, he has not done so.
Today (December 16) was different in Bengaluru. Kumble, who won the "Coach of the Year" honour at the annual Sports Writers Association of Bangalore (SWAB) awards ceremony, praised Kohli and his team-mates.
"India can create history in South Africa and beyond. I am very confident about the team," Kumble said after receiving the award on Saturday.
India will play three Tests in South Africa, starting on January 5, 2018. India have never won a Test series in South Africa.
The former legspin legend also thanked the support team during his tenure as India coach. Under Kumble, India achieved a lot of success Tests. Under his guidance India won 12 Tests, drew four and lost only one match.
Kumble-coached India won series against West Indies (2-0), New Zealand (3-0), England (4-0), Bangladesh (1-0) and Australia (2-1). In ODIs, India lost eight and five when Kumble was in-charge in 13 ODI contests.
On June 20, Kumble quit as India'a coach stating that Kohli had expressed 'reservations' with his style of coaching. He had called the partnership "untenable" and decided to resign. He was appointed by the Board of Control for Cricket in India (BCCI) in 2016 for one-year period.
After Kumble's exit, the BCCI appointed Ravi Shastri as the head coach till the 2019 ICC World Cup.