Feeling anxious and stressed out? Go to your happy place and try deep breathing and meditation. Feel all your tensions melting away with each slow breath.
Not working, eh? Still gritting your teeth despite that bogus company yoga retreat? Haven't found an invite to your local fight club?
I'm Jack's complete lack of surprise.
The first rule of fight club is observing the irrational anger that has pervaded individual's living in high-density cities. The perceived or actual competition over physical space and resources and creeping insecurities tend to provoke extreme reactions to trivial issues. And sometimes even public violence.
But don't you worry. Starting anywhere between 19-25 dollars (Rs 1,301.91 - Rs 1,713.04), you can release that anger by smashing up breakable items such as mannequins, televisions, computer screen, furniture and other objects while swinging weapons such as baseball bats, golf clubs, two-by-fours, sledgehammers, crowbars and the like.
All the while, you are padded with protective equipment that includes a helmet, goggles, boots and gloves and you even get to unleash that rage while listening to your favourite music. Any fans of the 1987 classic "Hip to be Square" by Huey Lewis and The News?
Yes, I'm talking about Anger Rooms/Rage Rooms! Welcome to this new quirky business that requires modest investments and ensures a unique nihilistic form of customer satisfaction.
As more people are beginning to sense the business opportunity, such rooms have sprung up in various locations such as Dallas, North Carolina, Houston, Toronto, Niagara Falls, Australia, Buenos Aires, Serbia and even Japan.
Prominent names include the Anger Room, Rage Room, The Break Room, Smash Shack, the Break Club and The Venting Place.
Depending upon requests, the experience can be tailor-made to suit your requirements, albeit at an increased price. For more money, customers can smash stuff for more time and with customised rooms, they can also decide what they even have more choice with what they want to break into a million little pieces. But the use of firearms and sharp weapons are strictly forbidden.
One of the most expensive setups so far has been a faux retail store, stocked with racks of clothing. The idea is also a hit for couple dating. Engaging in mindless destructive nihilism with a stranger is obviously the sure shot way to begin a long lasting and formidable relationship.
Interestingly, this business was also thriving during the American elections, as people began to queue to vent out their frustrations on mannequins designed to look like the candidates.
"We've gone through at least three of the male mannequins that we have to dress up as Donald Trump," Donna Alexander, founder of the Anger Room, an operation expanding and looking into opening franchise stores, was quoted saying to the New York Times.
Located in a 1,000-square-foot space in downtown Dallas, the Anger Room's revenue in its first year was $170,000. Since then, Alexander has received more than 2,500 enquiries from other aspiring anger-room entrepreneurs, and she is in the process of drafting a licensing agreement for franchisees.
Start-up costs for such a business are relatively small and include procuring the necessary materials (protective gear, items to smash and weapons to smash them with), and finding a suitable location. You have to hire employees to build the rooms (with reinforced walls), filling them with the breakables, and to regularly clean up the post-wreckage. Items to smash are also found on regular trash pick-ups for free.
But obtaining insurance is a bit of a hurdle.
The fact that it's a new concept, Alexander says her insurer "literally had to create a category for my business."
It's not too ludicrous to imagine such as a business opening in India, just like Vardhaman Jain asked Anger Room in December 27, 2015. They are even considering it.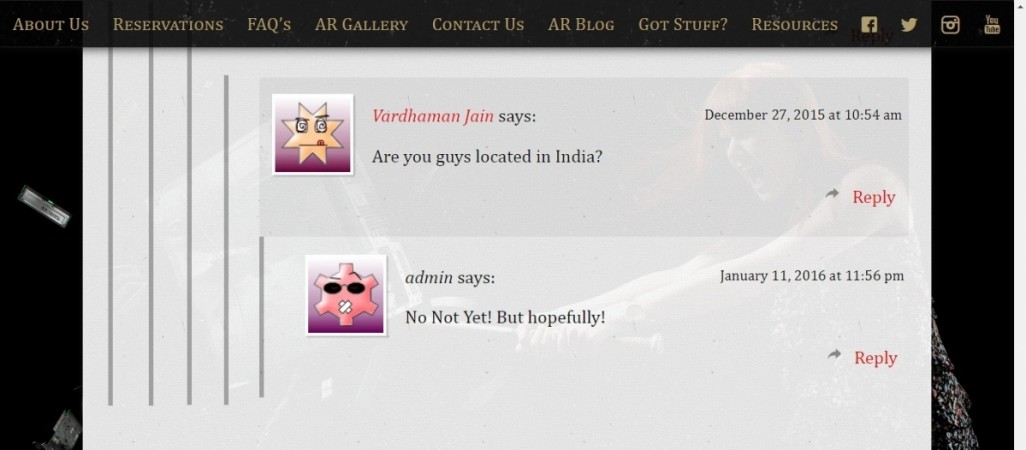 Entrepreneurs looking for a startup idea? I'm Jack's Wasted Life.