It is going to be almost a year since Brangelina separated but fans still hope that the two find a middle ground and mend things. After a nasty split, Angelina Jolie and Brad Pitt are trying their best to keep things normal for their kids. While the two are headed to their individual futures – Pitt signing Quentin Tarantino and Jolie spending more time with family – it looks like Jolie is taking a huge step forward and is planning to have a baby.
Star magazine has revealed that the actress could be pregnant but it is not Pitt's baby. Tracing back her secret "philanthropist" boyfriend whom she has been dating since "early 2016", the gossip magazine writes that Jolie is "glowing from within" hinting that she could be happily pregnant.
Also Read: Angelina Jolie trying to win back Brad Pitt?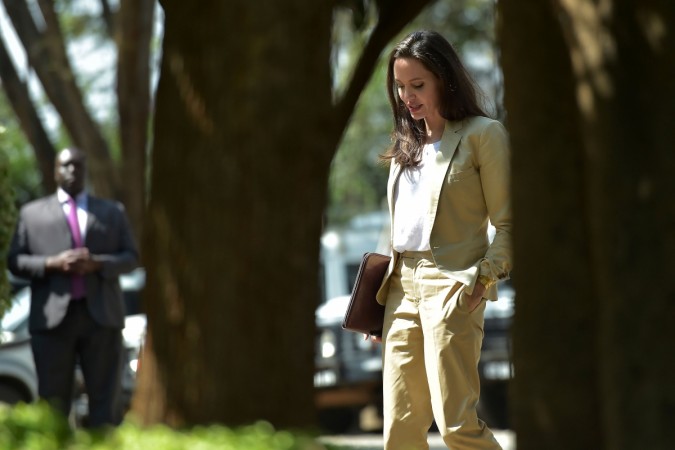 The insider shares that, "Angie likes the idea of becoming a mom again. Angie wouldn't even consider having a baby with him as long as his situation was unresolved, but now his wife has finally agreed to end the marriage, and Angie feels the timing is perfect." The actress, who is already a mother of six kids – Shiloh, Maddox, Vivienne, Zahara, Pax and Knox – wants another baby now.
The article emphasis on her broken state of mind after the marriage with Pitt did not work out. "She didn't know if she'd ever find someone with whom she'd want to have another child. But Angie is serious about this guy," the magazine claims.
They also mention that Jolie's children are excited about the news and want to lend her as much help as possible. However, it was when the report mentioned that the actress and her unnamed "man" are planning on surrogacy that raised suspicions.
How could she be "glowing" (as mentioned in the article referring to Jolie's being pregnant) if she is opting for surrogacy?
That tipped off Gossip Cop as well. Hence, reaching out to their sources close to the actress, who said the tabloid's tale is "nonsense". Fact checking the story, the website pointed out that her "secret" relationship began six months before her relationship ended with Brad Pitt. However, there was no reference to the Mr & Mrs Smith actress cheating on Pitt in the article.
Also, they traced back a report by Star that shared that Jolie regrets leaving Pitt in which, again, there was no mention of the secret man or the chances of her cheating. So, where did the "philanthropist" suddenly appear from?