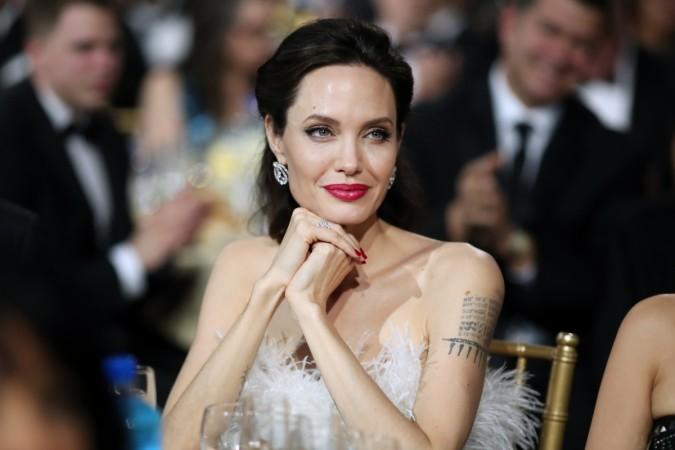 Angelina Jolie has stayed away from all social media platforms. The Maleficent actress doesn't have an official Twitter, Facebook or Instagram account yet and has been known to opt out of photos that are shared on either platforms.
However, with just a few days before her 43rd birthday, the mother of six made an unusual Instagram debut and we have Elle Fanning to thank for it. The Maleficent star captured a photo of Jolie and shared it on Instagram.
The two stars were seen posing on the sets of Maleficent 2. Fanning was seen taking a selfie with Jolie, sporting the famous horns and a pair of sunglasses photo bombing the image.
Fanning shared the picture with the caption: "It's bring your mom to work day on the #Maleficent2 set!!!!!" Both the actresses clearly are having fun shooting for the sequel. Jolie looks happy to be back on sets. The duo, along with the crew, are shooting for the movie in London.
Jolie has a lot going on at the work front. While the actress has begun filming for Maleficent 2, Deadline reports that the actress and David Oyelowo will feature in Brenda Chapman's fantasy drama called Come Away.
The live-action movie is said to be an imagined prequel to Alice in Wonderland and Peter Pan. According to The Hollywood Reporter, the movie pictures Peter and Alice as siblings before they ventured into Wonderland and Neverland.
When the siblings' elder brother dies in a tragic accident, Peter and Alice try to save their parents, who will be played by Jolie and Oyelowo, from their downward spirals of despair.
On the personal front, Jolie is still in the process of procuring a divorce from her estranged husband Brad Pitt. It was recently reported that the now-separated couple are battling a custody case which is delaying their divorce.