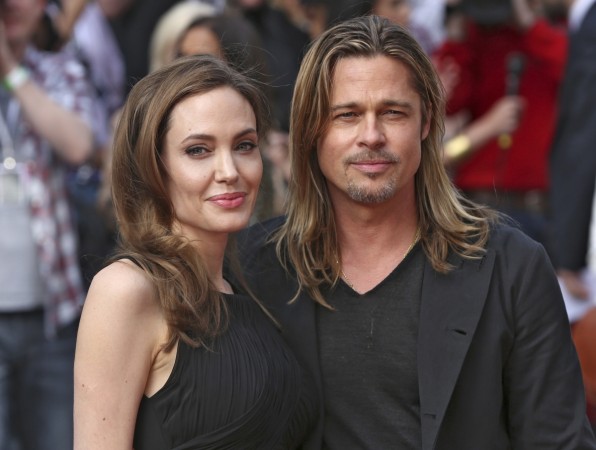 Over the past few weeks, Hollywood insiders have been claiming that Brad Pitt is reconnecting with his ex-wife Jennifer Aniston. A gossip website also reported that the Allied actor reached out to the actress and apologised for choosing Jolie over her.
A few days ago, it was reported that Pitt is trying to reignite a relationship with the Friends alumni and apparently this has got Angelina Jolie fuming. Sources close to the First They Killed My Father director claim that Jolie is not happy with Pitt reconnecting with Aniston and she is reportedly furious with her estranged husband.
Also Read: Is there a squabble going on between Angelina Jolie's sons Maddox and Pax?
Insiders tell In Touch Magazine that Angie does not like the way media portrays her as compared to Jennifer.
"Jen's always been Angelina's greatest rival when it comes to Brad. She hates the way that she has always been depicted as the evil femme fatale and Jen as the girl-next-door victim in the famous love triangle," a dubious source claims.
However, the informant adds, Aniston is delighted about Jolie's reaction to the new formed relationship. The Magazine's source reports, "She's getting her well-deserved revenge. Jen feels Angelina lorded her relationship with Brad over her all these years. Jen's having the last laugh. She loves the fact she has become his confidante."
Apparently there was more to just a phone call. The magazine claims that since Aniston's husband, Justin Theroux's was out of town, the former flames met and caught up on life.
"They did some major catching up," a second source told the magazine. During the meet, Pitt told Aniston about the infamous plane incident last September, discussed the split from Jolie and spoke about the custody battle as well.
"He soberly spoke about hitting rock bottom and how he made the climb out. He launched into a grand apology. He apologised for being an absentee husband in the marriage — being stoned and bored much of the time. He also made amends for being an avoider, getting lost and in a serious drinking-and-getting-high phase when he fell for Angelina while making Mr. & Mrs. Smith," the insider claims.
The report also claimed that the actor is at a better place now and is happy to have found a "loyal" friend in Aniston. While all this is nice, fans should take the news with a huge pinch of salt as none of the reps have clarified about the meet and reactions. However, if this has happened, Friends fans will be at a better place too.