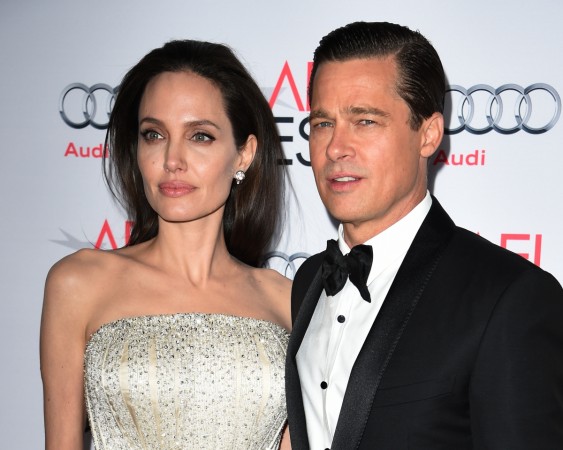 Angelina Jolie has been making headlines owing to her critically acclaimed Netflix original, First They Killed My Father. The film recently premiered in NYC and the red carpet saw the actress reunite with her father, Jon Voight and her godmother Jacqueline Bisset. The occasion saw Jolie accompanied by her children as well.
While her work is garnering positive attention, her personal life is still closely watched by fans. The actress recently opened up about her split with the estranged husband revealing that she dislikes being single. There were also rumours that the couple could be reconsidering reuniting following the delay in the divorce process.
Also Read: Divorce taking a toll on Brad Pitt's professional life?
Now, a report suggests that Jolie is returning to the "dark" side in an attempt to get Pitt back into her life. Gossip website Star reports that the actress has turned towards her strange, spooky and bizarre spiritual side to get Pitt back. The article claims that she's "turning to bizarre spiritual rituals in an effort to fix her life and get Brad back."
"Angie has been practicing haunting spiritual rituals with the intention of revamping her life," the tabloid claims. It is also believes she is "turning to a higher power" seeking help to "heal her rift" with Pitt.
It also adds she has "returned to some of the trusted practices she picked up during her rebellious childhood and world travels, with the intention of both improving her health and also shifting the resentful energy between her and Brad."
An insider claims to the magazine that the couple recently spent some time together at a friend's house. "Angie's into magic spells, and they've actually been working. They may have even helped her to reunite with Brad. They may have already decided to make a fresh start. Fingers crossed!" the source claims.
Apparently, Jolie is now clear on what she wants and she wants to get back to the person she used to be and she is taking the help from the spirit realm. The shocking article also adds that Jolie has apparently encouraged Pitt to participate in the "unconventional methods," Star's sources explain.
But Gossip Cop calls out their claims revealing that the statements are bogus. Busting their report, the website's sources sid that the "dark" Jolie news is merely a rumour and the couple is not considering reconciling.
"The actor has no intention of reuniting with Jolie romantically. Both are simply doing their best to move forward in their own ways," Gossip Cop writes.