It is about to be almost a year since Angelina Jolie and Brad Pitt separated. The couple, famously called as Brangelina, have not disclosed the exact reason behind the split. However, Pitt did drop a hint that his changed lifestyle became a prominent factor for the crack in the relationship in an interview with GQ Magazine. And now, after a long silence, Jolie opened to Vanity Fair to discuss how it all happened.
Talking to the magazine, Jolie shed some light on a few things that led to the divorce. The actress revealed that the domino effect began in summer of 2016 which eventually led to the split in September. She told the magazine, "Things got bad. I didn't want to use that word," Jolie said. "Things became 'difficult,'" she told.
Also Read: Angelina Jolie is pregnant and it's not Brad Pitt's child: Report
Jolie revealed that she had developed Bell's palsy last year, resulting in one side of her face to droop because of damage to facial nerves. "Sometimes women in families put themselves last until it manifests itself in their own health," Jolie said. She is taking the help of acupuncture to treat it and has recovered completely.
But why did it all happen? There were rumours that the couple's travelling lifestyle was one of the factors that influenced the breakup. Clarifying the statement, she said, "[Our lifestyle] was not in any way a negative." Angelina added, "That was not the problem. That is and will remain one of the wonderful opportunities we are able to give our children... They're six very strong-minded, thoughtful, worldly individuals. I'm very proud of them."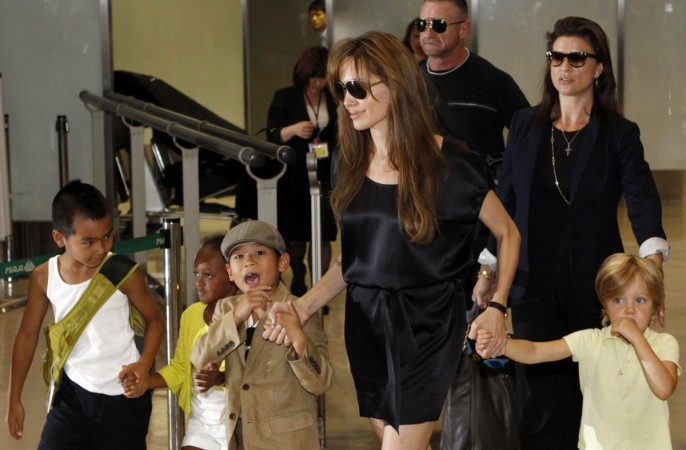 Ever since the breakup, tabloids have been reporting that the couple have kept the children as their priority and the children too understood that it was a difficult time. She revealed that they have "been very brave. They were very brave...in times they needed to be."
While the children were brave, the mother obviously couldn't bear breaking up the 12-year-long relationship but she did not want to break down in front of the kids. Thus, Jolie would lock herself up in the bathroom and cry her heart out until she could put up a strong face back.
"I do not want my children to be worried about me. I think it's very important to cry in the shower and not in front of them. They need to know that everything's going to be all right even when you're not sure it is," she confessed.