Hollywood actress Angelina Jolie is well-known for being a human rights activist. She has always raised her powerful voice for the rights of women and refugees for a long period of time.
Also read: Rajkummar Rao to compete with Angelina Jolie in Oscars 2018?
The 42-year-old actress addressed the topic of sexual misconduct while giving the keynote speech before the UN Peacekeeping Defense Ministerial Conference in Vancouver on November 15.
"Sexual violence is everywhere – in the industry where I work, in business, in universities, in politics, in the military, and across the world," Jolie said during her address in Vancouver on Wednesday.
"All too often, these kinds of crimes against women are laughed off, depicted as a minor offence by someone who cannot control themselves, as an illness, or as some kind of exaggerated sexual need," she added as noted by PEOPLE. "But a man who mistreats women is not oversexed. He is abusive."
Jolie has worked as a Special Envoy for the United Nations High Commissioner for Refugees for a long time as she spoke about the female Rohingya refugees seeking asylum in Bangladesh.
She mentioned in her speech that almost every woman there "is either a survivor of sexual violence or a witness to multiple incidences of sexual assault, rape or gang‑rape."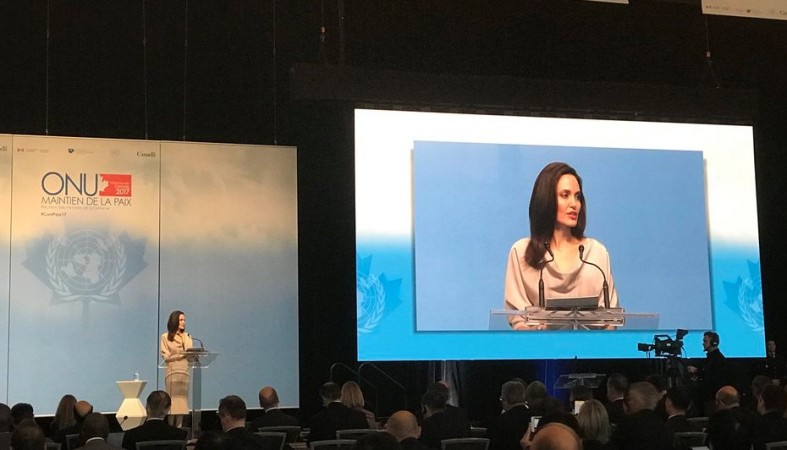 Adding, Jolie called sexual violence "a critical obstacle to achieving women's equality and our full human rights."
"It is cheaper than a bullet, and it has lasting consequences that unfold with sickening predictability that make it so cruelly effective," she further explained.
In her emotional speech, she urged the United Nations peacekeepers to take measure in the prevention of sexual violence in future.
Fighting against sexual violence is "hard, but it is not impossible," she said. "We have the laws, the institutions, and the expertise in gathering evidence. We are able to identify perpetrators. What is missing is the political will."
The Maleficent actress is one of the few top stars who called out against sexual harassment following the Harvey Weinstein scandal unfolded by The New York Times in October first week.
In an email to the US daily, Jolie explained how the Hollywood producer made unwanted sexual advances towards her ahead of the 1998 film Playing By Heart.
"I had a bad experience with Harvey Weinstein in my youth, and as a result, chose never to work with him again and warn others when they did," she said.
"This behavior towards women in any field, any country is unacceptable." Weinstein's rep countered that, "Any allegations of non-consensual sex are unequivocally denied by Mr. Weinstein."