Google has kicked off its annual I/O developer conference in California and successfully completed the first day of the event with several exciting announcements. One of the biggest things announced by Google at the I/O keynote is how Android P is going to transform the lives of millions of smartphone users.
Android P has been around since March as a developer preview, giving an early look at Google's next mobile OS, but the official release of Android P brings several changes. Overall, smartphone users will love what Google has in store for them even though it hasn't revealed what "P" stands for.
Even though Android P beta software is available, not everyone can download it. The new software is available on select devices, and they are:
Google Pixel

Google Pixel XL

Google Pixel 2

Google Pixel 2 XL

OnePlus 6 (to be launched on May 16)

Essential PH‑1

Sony Xperia XZ2

Xiaomi Mi Mix 2S

Nokia 7 Plus

Oppo R15 Pro

Vivo X21
As for the new features that come with Android P, users have a lot to look forward to.
Improved battery life
Every time there's a major Android software rollout, improving battery life is given preference. Nothing has changed with Android P. In fact, things have evolved with an integration of machine learning with the help of DeepMind.
Android P boasts Adaptive Battery that prioritizes battery power only for the apps that users use the most. In addition, there's Adaptive Brightness, which learns your brightness settings depending on your surroundings to automatically adjust it without having to do it manually.
Redesigned UI with new gestures
Google is promoting Android P as smart and simple with special emphasis on simplicity. Users now get better one-hand controls, which is crucial now that phones are getting taller with 18:9 or 19:9 aspect ratio displays.
Android P allows you to swipe up to see the new Overview, which has all your recently-used apps in full-screen previews. The lauded smart text selection now works in Overview screen to allow users to get necessary actions at the fingertips.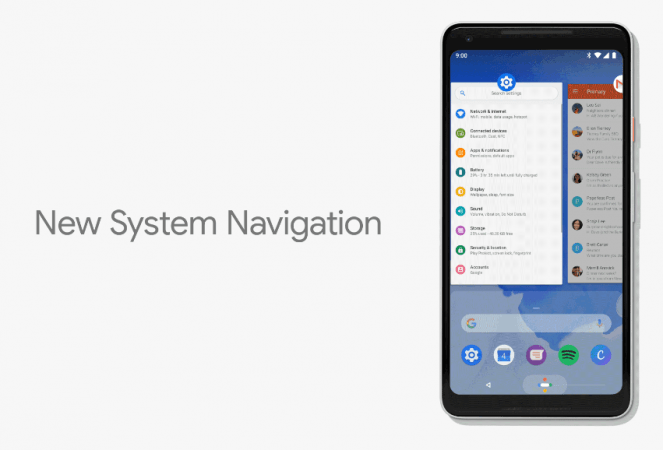 Other changes include redesigned Quick Settings, simplified volume controls, easier notification management and more.
"Changing how you navigate your phone is a big deal, but small changes can make a big difference too," Google said in its official blog post.
Fighting smartphone addiction
Smartphone addiction has become a rising concern, and Google is playing a robust role in combating it. Several new features in Android P will help you understand and control your smartphone use.
For instance, the Dashboard shows how much time you are spending on apps and how many times you've unlocked your phone. Users can use these statistics to set App Timer, which will remind you whenever you are close to your usage limit for that particular app.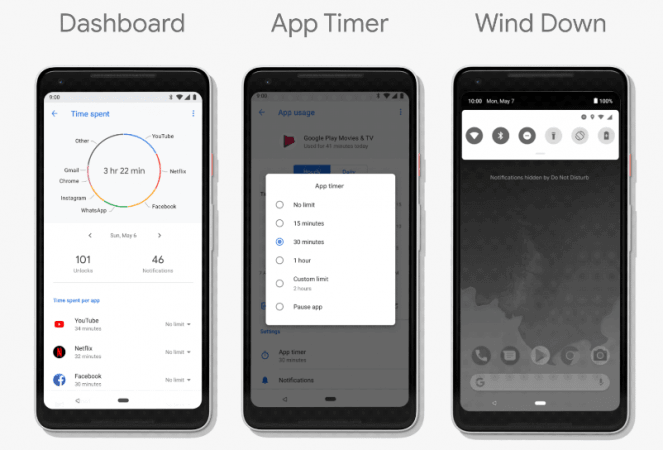 Android P will also invoke Do Not Disturb mode simply by turning over the phone on the table. And there's another feature called Wind Down, which turns on Night Light when it's dark and activate DND and fade the screen to grayscale at your chosen bedtime.
AI at the core
Android P is also about being smart. Thanks to AI and machine learning, Google can make Android smartphones smarter than they already are. There's a feature called App Actions, which can predict your next task when launching an app. For instance, when you connect your earphones, Android P will show a screen to resume your favorite Spotify playlist.