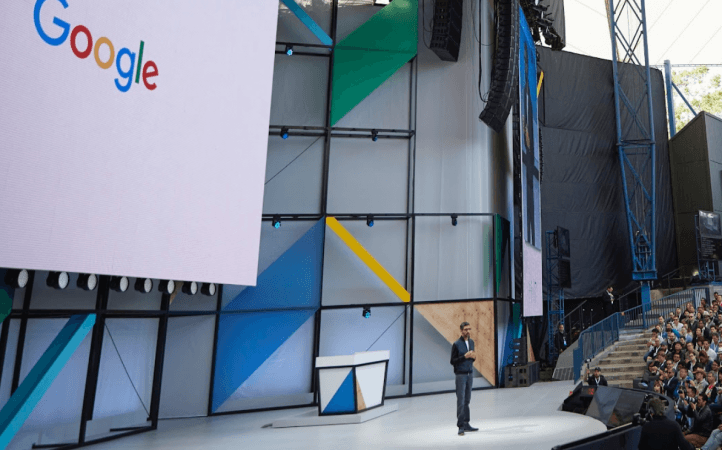 Google is expected to make big announcements including Android P preview release, strides in made in Artificial Intelligence, machine learning
The technology company is also said to unveil new gaming service and Android TV stick to take on Amazon Fire Stick
Search engine giant Google is all set to kick off the annual I/O developers' conclave at the Shoreline Amphitheater in the company's sprawling backyard of the Mountain View headquarters on May 8.
Google's I/O 2018 will be presided by the company's CEO- Sundar Pichai and other senior executives of the company and present keynote presentation on Android mobile OS v9.0 (aka P), latest developments in Artificial Intelligence and its use-cases in Google Assistant and more. It is slated to go live at local time 10:00 am PT/ 1:00 pm ET (10:30 pm IST) on May 8 and conclude on May 10.
Google I/O 2018: What to expect at the annual programmers' conference
Besides the usual keynote presentation, Google will be announcing new products (software and hardware) and also host a face-to-face expert session with participants on various topics.
During the three-day event, budding software developers will have the opportunity to meet highly skilled Googlers in CodeLabs and Sandboxes, wherein they will share their insights on mobile app developments. They will also shed light on Google services and infrastructure, which the participants can make use to develop their skill sets. They also give tips on how to make an optimized and feature-rich application, so that the app developers can monetize their service.
Android P:
In the 2017 event, Google kick-started the Android Oreo beta program and this year too, the company is expected to open the Android P development registration for the software developers.
Once inducted, programmers will be given access to the beta version of the Android P, wherein they have to test for bugs and send feedback to the Google's engineers.
As far as the features are concerned, Android P is said to come with a revamped interface with "Display cutout" feature to support devices with edge-to-edge screens with display cutout for camera and speaker similar to the Apple iPhone X.
Android P is expected to get security patch, which restricts the third apps in the smartphone from tracking internet activity of the user. Also, the new OS brings new notification feature 'smart reply' in the message app. If a user gets the message, the phone will provide an array of standard responses to the user. The user has to pick one of the listed responses and tap send button thus save time for the typing.
It is expected to announce several new value-added features of the Android P for mobile and also the Chrome OS for Google laptops at the I/O 2018.
Android Wear OS:
In addition to Android P, Google is expected to make announcements about smartwatch software Wear OS. Recent reports have indicated that the company's new generation wearable OS will have deeper integration with Google Assistant and come with several new features including more controls to operate smart devices.
Artificial Intelligence (AI):
Search engine giant is said to announce an improvement to its AI-powered Google Assistant for smartphones and also smart speakers. One of the enhancements expected is tighter integration in third-party apps such as camera, cab-hailing service apps and more.
Android TV:
Google is in bitter terms with Amazon over the latter's reluctance in selling Google smart speakers and among other products on its e-commerce site, and also not supporting Google service on its Fire Stick. In a bid to change the status quo, Google is expected to announce its own Android TV stick to take on Fire Stick.
Google Gaming device:
Earlier in the year, reports emerged that Google is working on secret product codenamed 'Yeti'. It is said to be hardware, but nobody for sure knows what it will be. One rumor is indicating it might be a Chromecast-like device, but instead of streaming media content, it would offer online games for users to play on smart TVs with supported controllers. Some are calling it as the 'Netflix' for gaming.
Another theory running on the Internet is that it might a standalone gaming console. We just have to wait a few more hours to know what Google has in store for fans.
Here' how to stream Google I/O 2018 on your smart devices:
Interested readers can log in to the official Google I/O 2018 page here when the clock strikes 10:00 am PT/ 1:00 pm ET (10:30 pm IST) on May 8.
Stay tuned. Follow us @IBTimesIN_Tech on Twitter for latest updates on Google.