In April, Asus had announced it will release Android Lollipop update to Zenfone 4, 5 and 6 series smartphones by the middle of May, but later this month, the company delayed the rollout process indefinitely, owing to glitches in the firmware.
It also declined to announce a timeframe for the release of the OS update, but now Asus India's Facebook page moderator has confirmed that the company will rollout the v5.0 series Lollipop in three to four months (around August-September, 2015).
The confirmation came in response to a query by Zenfone 5 device owner (AmitYadav) on whether his device will get any update.
[Read more: Google Android M Release: New OS to Allow Users to Choose What Apps Can Access]
The revelation has not gone down well with Zenfone users. They have criticised Asus for giving lame excuses for the delay. But the company's defence is that it is trying to ensure there are no bugs in the firmware so as to give rich user-experience.
Similar delays were seen for Sony devices too, but after about three months, the Japanese firm fulfilled its promise of releasing Lollipop update to all Xperia Z series devices last week.
[Read more: Finally Sony fulfils the promise of rolling out Android 5.0.2 Lollipop OTA Update to all Xperia Z devices]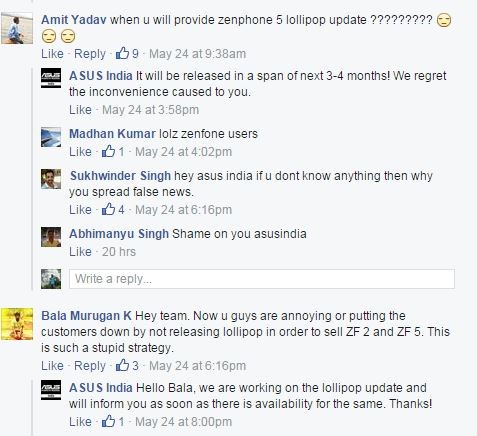 So far, Asus has released the update only to Zenfone 5 LTE. Once the glitch is fixed, Asus will deploy the firmware to Zenfone 4(A400CG/A450CG), Zenfone 5(A500CG), and the Zenfone 6(A600CG) and later to Padfone S (PF500KL).
[Read more: Android 5.0 Lollipop: Top Key Features of New Google Mobile OS]
The new Android OS update will bring in the new design language "Material Design" with interactive user interface, lots of animation graphics and lock-screen notification options. The replacement of Dalvik with ART as its default runtime will bring improvements in performance and battery life, and many more features.