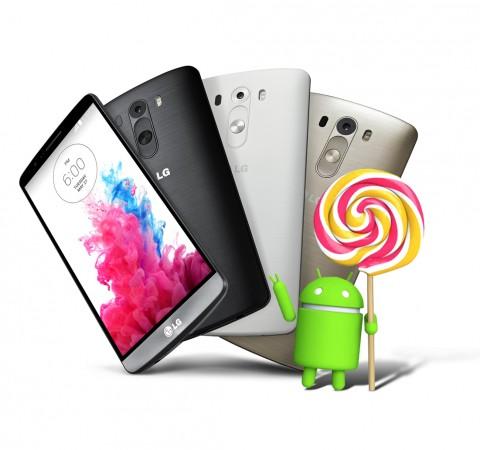 South Korean consumer electronics giant LG has confirmed to release the latest Android 5.0 Lollipop to G3 this week.
"LG is absolutely committed to giving our customers the best mobile experiences available and bringing Android Lollipop to G3 owners as soon as possible is a top priority," said Dr Jong-seok Park, President and CEO of the LG Electronics Mobile Communications Company.
"The new features and improvements in Android 5.0 will bring a whole new user experience to the G3 and make it even better than it already is," he added.
The company has revealed that the Android 5.0 Lollipop OS update will first roll out to LG G3 owners in Poland this week and later to all other key markets.
More details related to LG devices will be announced in the coming days as the Lollipop upgrade becomes available in local markets.
LG G3 owners can check for updates manually on their device by going to:
Settings >> About phone >> System updates >> check now
[Note: Since the update is released in phases, it will take some time, probably a whole of this month to reach all corners of world.]
With the announcement, LG is certain to cheer loyal fans and is Google's first OEM (Original Equipment Manufacturers) affiliate to release the new Android 5.0 Lollipop to its devices.
If LG starts rolling out update OTA (Over-The-Air) on Monday, 10 November, G3 will have the unique distinction of overtaking Nexus series devices, which are slated to get update only after 12 November.
[Note: Motorola has released Android 5.0 Lollipop update to Moto X (Gen 2.) Pure Edition. This process is a part of soak test to check for bugs. Select Moto X owners who have received the new update are advised to log in to Motorola customer help web-page and give feed-back to the company. Mass OTA OS update roll-out process is expected to happen little later, most probably by November end]
Early this week, Google was supposed to release Android 5.0 OTA to Nexus devices, but the roll-out process was put on hold owing to major bugs found in the firmware.
Some of the Nexus 5 tested with Android 5.0 Lollipop reportedly exhibited fast battery draining on activation of Wi-Fi feature. However, the issue has been fixed and is ready for release on Wednesday, 12 November [More information, HERE].
[Also read: List of Android Smartphones, Tablets Slated to Get Google v5.0 Lollipop OS Update]
The Google's new Android 5.0 Lollipop OS comes with an overhauled design language material design, bringing in interactive user interface, visually appealing graphic design (with bold colours & typography), tactile surface, fluid animation features, replacement of Dalvik with ART as its default runtime and many more tweaks for performance enhancements.
[Also read: Android 5.0 Lollipop: Top Key Features of New Google Mobile OS]