Former Australian all-rounder Andrew Symonds has alleged that the infamous altercation during the Sydney Test in 2008 was not the first time he was racially abused but that Harbhajan Singh had called him 'monkey' during their previous tour to India.
Speaking to Mark Howard of ABC News, Symonds revealed how the controversial incident during India's 2007-08 tour of Australia had led him to alcohol abuse and eventually ruined his international cricket career.
It all began when Symonds had a verbal altercation with Harbhajan, who was batting with Sachin Tendulkar during the third day of the second Test at the Sydney Cricket Ground in 2008.
Symonds alleged that he was called a 'monkey' by Harbhajan after he tried to rile up his Indian counterpart during the action-packed day.
"I said, 'Listen here d***head, we're not out here to make friends, you're about to get hurt here. And he [Harbhajan] started going: 'You're nothing but a monkey.' He said it probably two or three times. From that moment on that was my downhill slide," Symonds said.
"I'd spoken to Harbhajan the series before in India, he'd called me a monkey before in India," he added.
"I went into their dressing room and said, 'Can I speak to Harbhajan for a minute outside please?' So he came outside and I said, 'Look, the name-calling's got to stop or else it's going to get out of hand.'
"[I said] 'We've got a few names for you blokes and you've obviously got a few names for us and that's all good but it's going to end in tears so let's knock it on the head.'
"So we shook hands and he said, 'No problem boss, all good.'"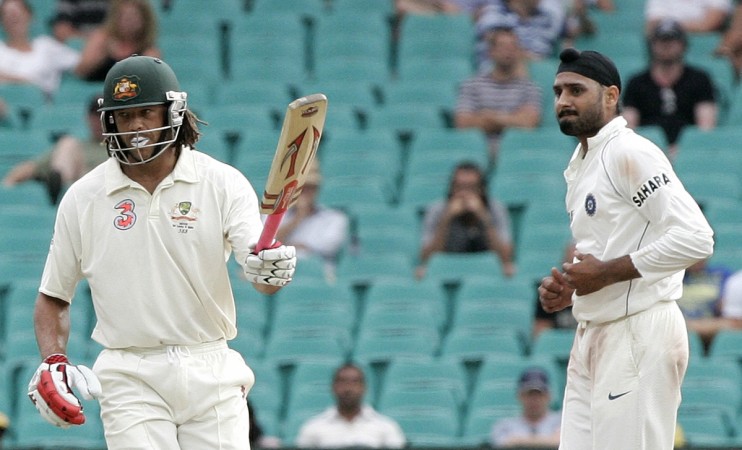 Australia's then captain, Ricky Ponting lodged an official complaint against Harbhajan even as the incident blew up into a front-page story. The skipper along with Symonds, Michael Clarke and Matthew Hayden gave evidence to the International Cricket Council (ICC) following which the Indian off-spinner was given a three-match ban.
Tendulkar was the lone witness from the Indian team standing by Harbhajan. The visitors even threatened to cancel the tour midway as they reportedly felt their off-spinner was falsely accused of racism.
However, after an appeal and a subsequent hearing New Zealand High Court judge John Hansen, the punishment was reduced as the racism charge was not proven. Harbhajan was fined 50% of his match fee after it was found he had used abusive language.
Symonds ran into the trouble with Cricket Australia in 2009 over alcohol abuse and was even sent home from World T20 in the same year for drinking ahead of the tournament. The all-rounder insisted that he had dealt with the incident "in a wrong way" and felt guilty over dragging his teammates into the controversy.
The then 34-year-old retired from international cricket in 2009 but continued playing T20 franchise cricket across the globe. Symonds and Harbhajan even shared a dressing room at Mumbai Indians during the former's Indian Premier League stint.