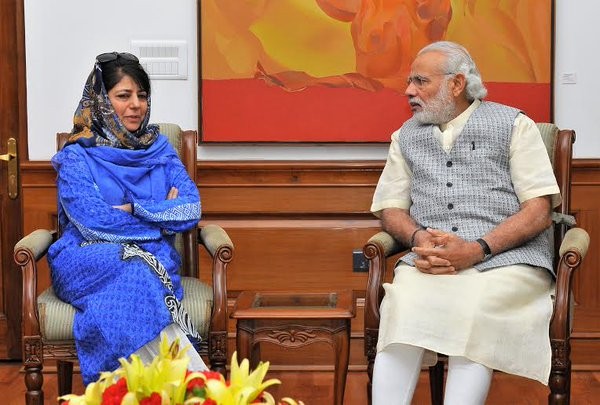 Jammu and Kashmir Chief Minister Mehbooba Mufti met with Prime Minister Narendra Modi at his residence on Saturday to discuss the ongoing unrest in Kashmir as the valley faces 48th day of curfew after the killing of Hizbul Mujahideen militant Burhan Wani.
Reports state that during Union Home Minister Rajnath Singh's visit to the Valley, the Kashmir CM told him that Centre needs to announce certain confidence-building measures to show that it was keen on resolving the crisis in Kashmir. Mufti discussed the same in her meeting with the PM.
After meeting the PM, Mufti addressed a press conference in Delhi. She told the media that Pakistan has been trying to provoke and fuel tensions in the valley. She also added that like everyone, PM Modi is very concerned about the situation in Kashmir.
"Sadly, Pakistan has repeatedly wasted chances to talk and resolve issues. Modi ji took an initiative, our Home Minister took an initiative, they went to Pakistan, but now its upto Pakistan to respond," Mufti said.
"As a mother it bothers me that people tell children, go stone a police station, that will solve issue," Mufti added.
This is the first meeting between the Kashmir CM and PM Modi after the unrest began on July 8, 2016 following Wani's killing. The meeting between the two was fixed after the Centre asked Mufti to control the ongoing violence in Kashmir, which has led to a loss of 69 lives.
In increasing efforts to control the violence in the valley, an all-party delegation has been organised that will visit Kashmir in the first week of September. The decision to send the delegation came after a two-day visit by Rajnath Singh in the Valley. He assured that the government is deciding on an alternative to pellet guns, which has left many people blinded and the willingness of the government to speak to "anybody" about the issue.
PM Modi on Monday expressed "deep concern and pain" over the loss of lives and the violence in Kashmir. He said that there was a need for dialogue to address the problems of the people and of a permanent solution to solve the recurrent crisis in the region.
"Those who lost their lives during recent disturbances are part of us, our nation. Whether the lives lost are of our youth, security personnel or police, it distresses us," PM Modi said in a statement.
Mufti on Thursday defended the actions taken by the security forces during a press conference and said, "People came on streets, we imposed curfew. Did the children go to army camps to buy toffees (candy)? Was the 15-year-old boy, who attacked the police station at Damhal Hanjipora (in south Kashmir), going there to get milk..."
She added that 95 percent of the people want to solve the crisis with peace and dialogue, but the remaining 5 percent of them are resorting to protests and agitations.