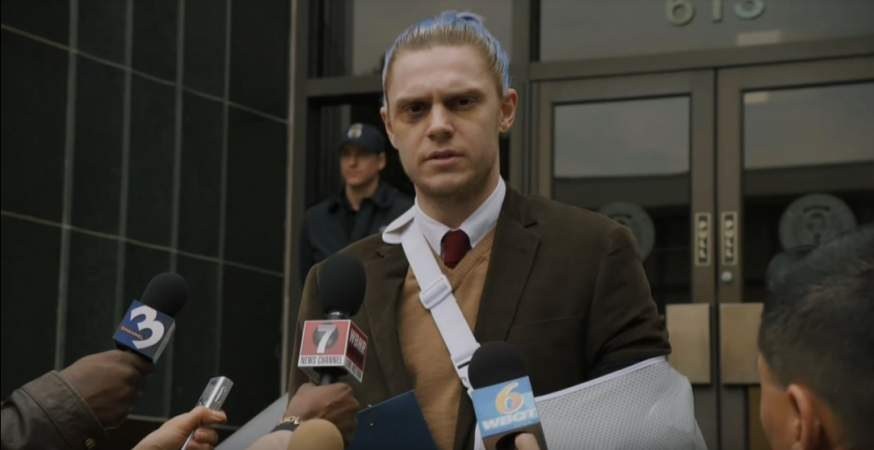 With just two episodes in, American Horror Story's seventh season, Cult has already sparked off speculations. Theories are pouring in and fans have been reeling their thoughts plenty to figure out who the leader could be! Is it one of the popular faves or it is some psycho the fans have totally been sleeping on!?
Also read: The Walking Dead, The Originals and other addictive supernatural dramas on TV [VIDEO]
So far, the story has been exactly what every season promises. Creepy, twisted and gritty, no doubts! As is clear, the antagonists have appeared in the form of the Anderson siblings – Kai (Evan Peters), Winter (Billie Lourd) and possibly Ivy (Alison Pill) too.
While Kai happens to be the town's Trump-worshipping psycopath, Winter is riddled with anxiety pertaining to being around kids in general.
Yet, knowing Ryan Murphy and Brad Falchuk, there has to be some deeper, darker tale. Sure enough, one such hard-hitting theory has spurred from a fan who goes by the reddit username StripperGirlDelilah.
"Wouldn't it stand to reason that the true leader of the cult is a queen bee of sorts?" they posted, with a full length explanation stating their reasoning.
While Ivy is the seemingly untrustworthy one so far and Ally (Sarah Paulson) is a character suffering deranged episodes, StripperGirlDelilah believes it's not all a result of the Trump worship. From the first episode, there has been considerable significance laid on bees and hives.
In case you've missed the trailer, take a look right now to know what we're talking about!
From Ivy and ally's bee keeping neighbour to the conspicuous flower inside closed doors - StripperGirlDelilah points out, "The queen bee is kept inside the hive at all times for protection."
Wouldn't be wrong to deduce that this mysterious room is possibly where the Anderson's mommy dearest is hiding out. That would also close the circle of hair colours (Kai's blue and Winter's white) with their mother finally appearing with red hair; aka America in all its true colours. For further details, check out the full explanation here.
Another fan theory also points out that Kai could possibly be the sperm donor for Oz, who is Ivy and Sarah's son, leading him to be the mastermind behind the mayhem. That would explain the hate crimes (remember the latte-lash from episode 1?) and continuous targeting of Ally. Not to forget, Ryan Murphy also teased fans to Evan and Sarah's characters on Instagram with a post captioned, "Ally and Kai in CULT...a love story for the ages."
Or could it be the mysterious Winter? She rocks the classic 60's vibe with her white hair, with a very Charles Manson-esque aesthetic. And then there are the multiple references to the Manson family, who were called the 'cult' themselves. It all fits perfectly, doesn't it!?