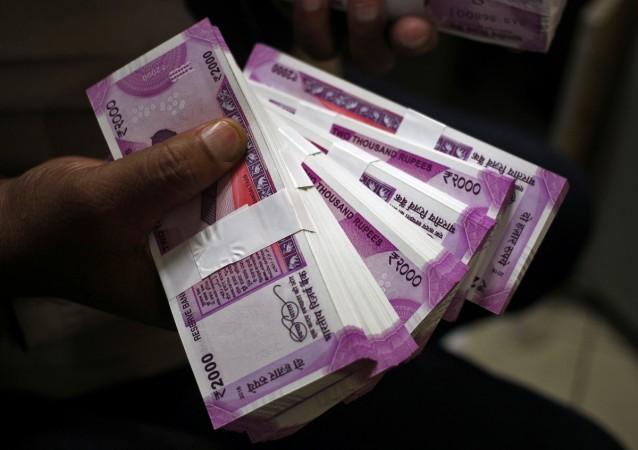 With India inching closer to the historic 2019 general elections, some analogies with the US politics would make sense. Prime Minister Narendra Modi appears invincible as of now but if he loses, a lion's share of the blame will be with US President Donald Trump.
More than four years after Modi romped to victory in 2014 he looks well-placed to win another term -- despite many backlashes, the most biting among them being the demonetisation that went awry.
President George HW Bush was also poised to win a second term in 1992. He had led America and its allies to a victory in the Persian Gulf war and his era saw momentous geopolitical changes that favoured the US, including the fall of the Berlin wall and the collapse of the Soviet Union.
So much so, when the ex-CIA man who had served as a loyal deputy to Ronald Reagan looked into the rear view mirror at the beginning of the 92 election cycle he couldn't see many confident challengers from the Democratic camp. No one believed he would lose.
Modi would relate to that position. India's stock on the world stage is rising, the party is firmly in his grip, the recent state elections haven't returned hugely negative results for him and there isn't a clear challenger from the opposition ranks. More importantly the Opposition is in incredible disarray. Another term for Modi looks, even now, a pretty normal outcome in 2019.
'It's the economy, stupid'
Cut to the US of 1992, when Bill Clinton emerged as the improbable challenger to Bush. Clinton went on to win the election by deftly using the economy card in stump speeches. His famous line 'It's the economy, stupid' was lapped up by the masses and reverberated in nation-wide discussions. Unemployment rate was going through the roof, inflation was hurting and the economy was in depression. To make it worse, the core Republican base was angered when Bush broke his famous pledge, 'No New Taxes'.
In a putative quid pro quo Modi will be reminded of his own promises -- No Black Money, one wonderful tax plan, lower fuel prices etc.
Once during the presidential debate, when the much younger Clinton pummelled the veteran on the economy question mercilessly, Bush cast a glance at his watch, trying to see when the misery would get over. That moment cost him the presidency - he ended up as a one-term president.
Now, Modi should be wary of his Bush moment, though it's not yet clear if Rahul Gandhi can play the part of Clinton effectively. He is younger, dapper and is fired by youthful agitation that India's millennial electorate can relate to. But pitted against Modi's insurmountable perch, what are Rahul Gandhi's arsenal? He's not the leader of a monolithic opposition. He is one among the challengers. His Congress party is a poor comparison to the BJP's all pervading might on the national scene thanks to its crafty president Amit Shah.
Trump can cause Modi's defeat in 2019
Yet, not all hope is lost for Gandhi. Modi's Bush moment is possible, and that will be ushered in by none other than a friend of his -- Donald Trump. It looks like the economy, not demonetisation or GST, would offer Gandhi the single most effective election plank in 2019. Trump's role in that reversal of fortune isn't small.
The currency crisis, the ballooning current account deficit and the skyrocketing fuel prices have already brought the hard focus on economy. The weak rupee makes crude imports even more painful, dealing a double whammy. This expands the CAD further, leading to a worsening of bond yields. Rising CAD and widening yields will lead to a capital flight, and at that stage the rise and rise of Indian stock markets can turn into a sorry story.
How is Trump playing a part in this misfortune? Trump's hard stance on Iran has led to oil prices steadily rising. When the new round of Trump sanctions on Iran start in November, global crude could breach $100 barrier once again. The Saudi-Russian decision to cut output certainly mopped up the excess on the market but Trump's sanctions on Iran and Venezuela have had a more lasting impact on prices.
After Trump came down heavily on Iran, India was forced to cut cheaper supplies from Iran, which meant it shelled out more dollars to buy crude from other countries, exasperating the rupee and worsening CAD, which has hit a five-year high. Starting from November, India is more likely to cut Iran crude further, even as crude prices are predicted to go up further.
India's oil import bill surged 76 percent in July from a year earlier. With a harder price regime setting in by the end of the year, the oil bill and its impact on rupee are more likely to worsen. After all India is the world's third largest crude oil importer after China and the US. And it's the world's fastest-growing oil consumer, besides being the fastest growing major economy.
The Indian rupee, which is facing one of its worst ever routs, fell to a new record low of 72.91 against the dollar on Wednesday. Along with the crude prices, the ever-growing current-account deficit is hitting rupee hard. CAD hit $15.8 billion in the June quarter, the biggest deficit in five years. This represents 2.4 percent of gross domestic product, and analysts have predicted this will go up further on account of increasing fuel prices and fund outflow from the markets.
Amid all this, the rupee could weaken further to as low as 75 per dollar and the benchmark bond yield could widen even more. When the latest quarterly CAD numbers came, the yield on benchmark 10-year bonds had jumped 13 basis points. If CAD widens further, a sizeable fund outflow could be the result. There won't be so much mirth on the Dalal Street then, and it would be hard to sell the ever-rising Sensex as the face of India's growth story.
How will rupee plunge impact you?
It requires no punditry to see that it's difficult for a government to win re-election when /if petrol hits Rs 100 a litre. If the RBI raises rates further to arrest the rupee's fall -- it will have to -- it will add another layer of misery to the people. Home loan EMIs will rise, credit for business will become dearer, a whole gamut of FMCG and other consumer goods will be costlier. In addition, foreign education and foreign travel will also become costlier. Even the prices of pulses and edible oils will go up. Continued fall in rupee will make a whole lot businesses that depend on imports vulnerable, and soon the job markets will feel the pinch. There will soon be price increases in automobile sector as well, and the prices of all electronic gadgets, mobile phones etc, wherein imported materials are used, will go up.
All this and more impacts on the economy front make for a recipe for disaster for any incumbent government. Will Modi be able to shake off his Bush moment? It's going to be interesting to see how the economy plays out in the crucial months ahead.