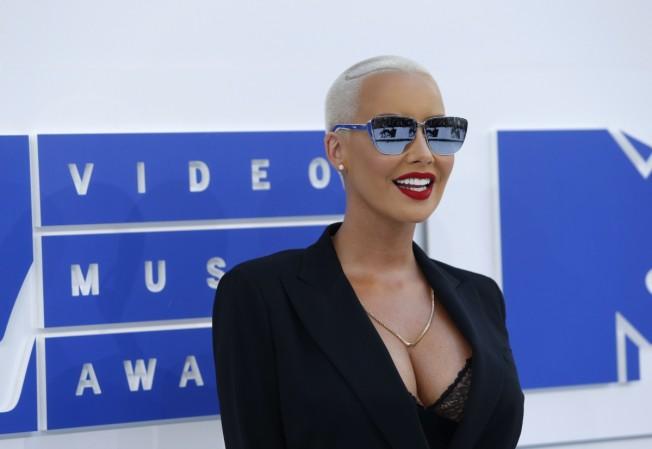 Amber Rose is never shy of flaunting her incredible body. She has done it again in a set to revealing Instagram posts, which features her in a teeny tiny bikini that barely covers her modesty.
The Philadelphian native put her curves on display as she posed in nothing but a strapless, backless lingerie top. The videos, which are being shared on the image sharing site, feature her on bed, exhibiting her tattoos and toned skin.
Also read: Cher's revealing outfits will remind you of her '70s style
The first clip features the 33-year-old in all black outfits. It is accompanied with the words: "Backless, Strapless, AND Cleavage? @sneakyvaunt we might be a lil NSFW, but I'm not at work am I? Girls night just got even hotter, and you rosebuds can join. 20% off now at sneakyvaunt.com , better be ready to #vauntit alllll night long."
The social media post garnered over 1.8 million likes and around 6,800 comments. While some her followers described her as "sexiest women alive", Rose also received criticisms from many of the social media users, such as cookingwithcree, as he wrote, "Amber why are you doing this."
Shortly, the baby mother of Wiz Khalifa added another video to her Instagram stories, showing off her bare back. She captioned it: "S/o to real titties in real strapless pushups. @sneakyvaunt, I fucking ❤️ u. Yes way, adjustable cleavage is a thing and it's here. Do one for your "girls" and cop it 20% off on their website... check it."
The clip received a million likes and 2,400 messages. It also received several criticisms from netizens. "I may ask one question,sometimes I guess u r sick or not,why u always wearing sunglasses? R u sick?" commented one of the social media users.
The video was posted on Instagram hours after Rose uploaded a photo herself wearing a silver bodysuit. The sexy snap, which is captioned All new bodysuit, flaunts her incredible curves and toned skin.