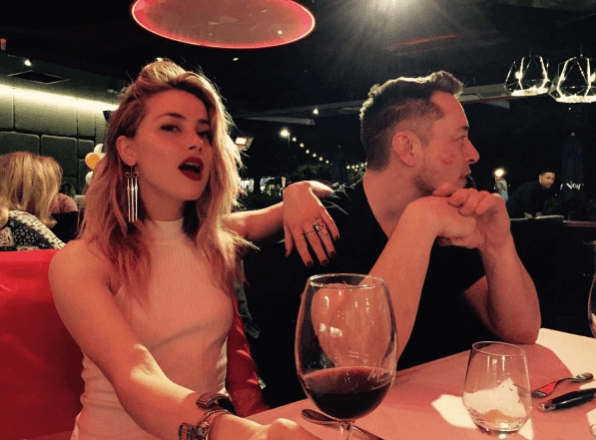 Love is clearly in the air as Aquaman star Amber Heard looks head over heels for Elon Musk. The actress officiated her romance with the Telsa founder in April when she posted a picture showing a lipstick mark on his cheek while the two attended an event.
In the past two months, the couple has been spotted spending time together. Heard shared a happy picture from the day she spent with Musk's children against the backdrop of Sydney's famous Opera House. And now, the couple was spotted having a casual lunch date in LA on Friday.
Also Read: Aquaman actresses Nicole Kidman and Amber Heard feuding on DC movie set?
Onlookers told People that Musk held Heard around her waist as they waited to get seats at Sweet Butter. These casual meets have got everyone questioning about their relationship status and sources confirm that the couple is headed for a serious path and it cannot be considered as just another attraction among each other.
"They are getting more serious," says a source close to the couple. "It's definitely not a casual relationship. That's not Elon. He doesn't do anything casually." The source confirms that the Tesla founder "isn't dating anyone else" and "is still very fascinated by Amber and loves her company. He seems very happy with her. She is spending a lot of time with his kids," People reported.
While all this is good for the actress, fans are not convinced about their romance and speculate that the actress is merely behind his money. After her nasty split from Johnny Depp, the actress could only demand $7 million as settlement. The money also did not reach her hands as Depp addressed the cheques directly to the charity foundations she promised to donate the settlement money to.
This has convinced many on social media that the actress has lynched on to the fortune maker as a gold digger.
@elonmusk needs more cash if he makes Amber Heard his third ex-wife

— Ma Joad Redux (@Marjori31384722) June 2, 2017
I'm not sure, but I think that Amber Heard is wearing out Elon Musk. Poor guy.

— voxsartoria (@voxsartoria) June 1, 2017
So, how long before Amber Heard marries Elon Musk, then claims abuse to get a wedge of his cash?

— Matt Sanders (@VeryOldHabits) June 1, 2017
Writing an analysis piece on her infamous divorce with Depp, IBTimes, US, notes that there is one similarity drawing between the two romances she has had -- fortune. The website highlights that, like Depp, Musk's net worth is far greater than that of the Aquaman actress. His fan following is far more than Heard's. These factors add to fans' speculations, calling her a gold digger. Fans also joked that she would marry and divorce Musk only to fill up her bank account, which she couldn't do during her divorce with Depp.
But then again, only time can tell what will be the outcome of this relationship. However, considering that the couple is rather low-key about their relationship as compared to their previous relationships and Heard genuinely looks happier with Musk, it could also be hinted that marriage could be on the cards.