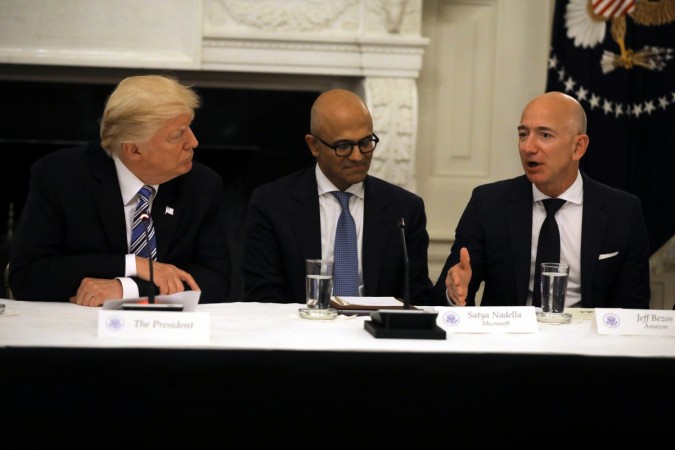 US online retail giant Amazon will keep investing and growing in India, founder and CEO Jeff Bezos said in Washington DC on Sunday, soon after his meeting with Prime Minister Narendra Modi, the financial daily Business Standard reported on Monday.
Bezos was one of 20 odd US business leaders who met Modi on Sunday, the Business Standard report said. Among others were Apple CEO Tim Cook, Google CEO Sundar Pichai and Microsoft CEO Satya Nadella.
Amazon, which has recently completed four years of operations in India, is competing in an intense battle for leadership with homegrown e-tailer Flipkart.
Bezos' indication that Amazon's investments in India will keep rolling comes at a time when the company has completed four years of doing business here and cornered a sizeable chunk of the e-commerce market. The firm has committed to investing $5 billion in the country, and says half its investments have so far gone into building infrastructure.
"We don't really hold ourselves back based on a targeted investment. We will require a lot of investment, as will Indian e-commerce. It is still very early and we should be ready to invest for many years," Agarwal had told Business Standard in a recent interview.
Amazon has aggressively invested in setting up fulfilment centres across India to ensure speedy delivery to consumers. It has 41 such warehouses across 13 states.
While Amazon does not break out its investment figures by country, the company's losses from its international business shot up to $541 million in the third quarter of 2016. At the time, the company attributed the loss to its accelerated investment in India. In the two following quarters, too, losses remained high – at $487 million and $481 million, in that order, Business Standard said.
According to analysts quoted by the financial daily, Amazon easily spent over $1 billion in India during 2016-17. That rate of investment is only going to go up, as rival Flipkart has finally found long-term investors, and Chinese rival Alibaba is stepping up its game in the country, the financial daily observed.
In the first quarter of 2017, Amazon claims to have recorded 85 per cent business growth over the same quarter a year earlier. Besides, Agarwal expects the India market to grow at a double-digit rate for years to come, the daily said.