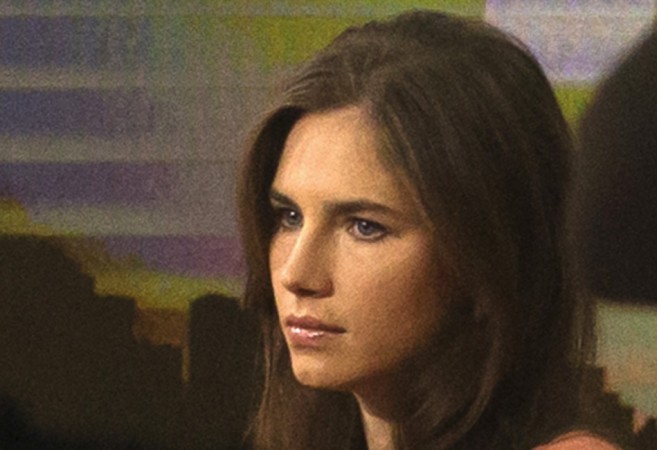 Amanda Knox, the American student who was acquitted in the 2007 murder case of her roommate Meredith Kercher, opened up about her lesbian encounter during her prison term.
Also Read: Nicki Minaj goes topless and gives her Instagram followers an eyeful [PHOTO]
In a candid essay for Vice's Broadly, Knox shared her experience about relationships with inmates in an Italian prison. In 2007, Knox was convicted of murdering her roommate Kercher and in 2015 Italy's highest appellate court overturned the judgment and acquitted her of all the charges.
In the essay, Knox revealed about an inmate Leny (name changed), who was a lesbian and a small-town drug dealer. Knox said that initially Leny remained a friend, but later she tried to develop a sexual relationship.
"Leny told me about how, in Italy, she had experienced a lot of judgement and closed-mindedness," Knox said. "I sympathised. When I was 14, a rumor went around my Catholic high school that I was a lesbian, alienating me from everyone but a small group of my classmates. Later, I became an LGBTQ ally and helped found the Gay-Straight Alliance at my high school."
"When I told her that, Leny grinned ear-to-ear. Afterwards, she scampered, puppy-like, alongside me as I paced the exercise yard – the next day, and the day after that, and eventually every day," she further added.
"At least initially, Leny might not have been trying to seduce me, and was actually just in need of someone kind to distract her from her loneliness," she shared. "This is common. Contrary to what you might guess, many prison relationships aren't about sex — just like most relationships outside of prison."
Knox further said that Leny wanted to hold hands and one day she even kissed her. "I gritted my teeth and half-smiled, wavering between embarrassment and anger. It was bad enough that the prison institution took ownership of my body―that I was caged and strip-searched on a regular basis and had already been sexually harassed by male guards."