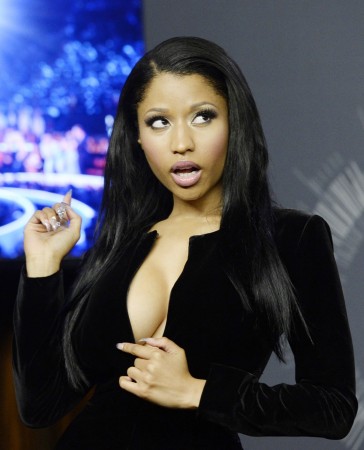 Nicki Minaj on Wednesday gave her Instagram followers an eyeful when she decided to flaunt her new boots by going topless.
Also read: Outlander Season 3 air date, spoilers: Here's all we know
The photo shows the 34-year-old semi-naked, wearing a pair of silver Chanel boots. The only accessory she wore was a pair of red sunglasses. "When u a stripper but lately u really been thinkin bout leavin the game. By Chanel," she captioned the image.
The image seems to be from a photoshoot she did last week, as she had earlier posted pictures wearing the same footwear.
Minaj is currently single after splitting from longtime boyfriend Meek Mill, and she is back to being friendly with Drake, with whom she had maintained a distance after following his feud with Mill in 2015. Reportedly, Drake had even advised Minaj to dump Mill.
Minaj and Mill were together for almost two years, and the songstress confirmed their split in January 2017, saying she was single and focusing her energy on her career. Minaj and Meek clearly aren't on friendly terms and he dissed her during a star studded concert on February 11 by allegedly calling her a bitch.
"Nicki Minaj hates to admit this, but Drake was right! Meek Mill really is a tired, immature little boy," a source was quoted as saying by HollywoodLife. "Nicki's kicking her own ass right now for not listening to Drake when he told her to take out the trash years ago. She would have saved herself a lot. But she learned from this. She knows she's ready to be a mother! All she did was take care of Meek in every way, including his rap career."