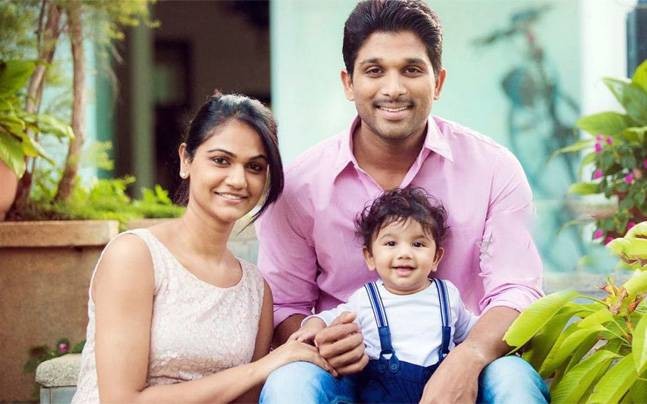 Stylish star Allu Arjun's wife Sneha Reddy delivered a baby girl at a private hospital in Hyderabad on Monday evening. Both the mother and the newborn baby are healthy, a source from the mega family said.
The rumours about Sneha Reddy's pregnancy started making the rounds in media after she was spotted with a baby bump at the Haritha Haram event in July. Later, Allu Arjun took to his Twitter handle to confirm the news on July 20. He had tweeted: "Happy to share that my family is growing a little bigger. Another baby arriving soon!"
Four months after his announcement, Sneha Reddy gave birth to the baby girl on Monday. Allu Arjun took to his Twitter handle on Monday to share the news with his followers. He wrote: "Blessed with a Baby Girl! Soooo Happppyyyyyy right now ! One boy & one girl. Could'nt ask for more. Thank you for all the wishes. Lucky me,"
Allu Arjun and Sneha got married in 2012 and welcomed their first baby, son Ayaan, in 2014. Now, the couple is blessed with a baby girl. The year 2016 has been a special one for Bunny as he has scored a blockbuster with Sarainodu, which is the second highest grossing Telugu film of 2016. Now, the arrival of the new family member marks double celebrations for Allu Arjun.
Allu Arjun's announcement of the good news thrilled all mega family fans, who kept congratulating him on social networking sites like Twitter and Facebook. His colleagues from the industry also wished him.
Lakshmi Manchu: Congratsssssss @alluarjun for bringing in an angel. Girls are the best. #babygirl #alluarjun #perfectfamily.
Kajal Aggarwal: @alluarjun congratulations on the cute little bundle of joy!!! Lots of love to the baby and Sneha ❤️❤️can't wait to see the little princess
Dr Jayasudha: Hearty congrats and best wishes to little princess arrival dear @alluarjun God bless. Loads of love. ♥
G Sriniwasa Kumar: Auspicious Kartheeka Somavaram @alluarjun & #Sneha garu blessed with baby girl. Feeling very very happy :) ఒక బాబు ఒక పాప :) #Alluprincess