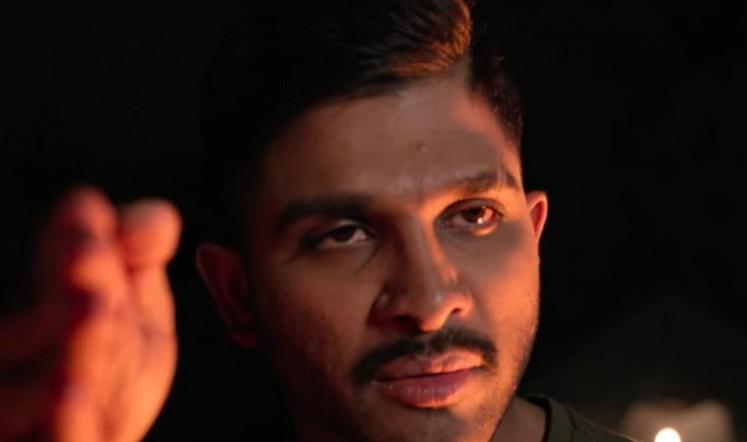 The trailer of Allu Arjun's forthcoming movie Naa Peru Surya has been unveiled ahead of the film's release on May 4. The clip was launched directly on YouTube on Saturday, April 28.
The video begins with Surya (Allu Arjun) being fired from the Indian Army. Then, the promo introduces to the hero's nature, attitude and the way he conducts himself when he loses his cool.
It also gives glimpses to the hot-tempered man's encounter with the characters played by Arjun Sarja and Sarath Kumar. Although there is not much scope for the family and romantic moments in the trailer, it indicates that the angry young man has a family and a lover.
It is a power-packed trailer with action written all over it. The punch dialogues are an icing on the cake. And the one-liner mouthed by Allu Arjun at the end where he claims, "he wants India," gives goosebumps to his fans.
The video has been lauded by cine-goers and appreciated the smart way of packaging all the elements in the 1.49-second clip. Here, find the netizens' response to the clip:
taran adarsh: This trailer packs a SOLID PUNCH... Trailer of the next biggie #NaaPeruSurya... Stars Allu Arjun... 4 May 2018 release in Telugu, Tamil and Malayalam... Link:
ytalkies: And Here He Is...The Soldier...What A Splendid Trailer...Spellbound would be a short word!!!
Banna: Just saw #NaaPeruSurya trailer.. Movie looks absolute promising - Beast Allu arjun on a Swag mode like never before... Mazza aayega agar hindi dub mei aaye toh first day first show Confirmed!
Rohit Jaiswal: @alluarjun #NaaPeruSurya Trailer is a Complete Winner.... BOUND to Take EARTH SHATTERING opening all over South India... nd in Overseas.... #NSNITrailer
Abhijeeth Poondla: Blockbuster written all over it !! Impact adurs . Congratulations in advance @SridharL sir, Naga babu Uncle, V.Vamsi garu, my dear brother @alluarjun & to the entire cast n crew of #NaaPeruSurya .Can't wait to watch #NaaPeruSuryaOnMay4th https://www.youtube.com/watch?v=ZnVIUr_BQSs&sns=tw ... via @youtube
Prashanth Rangaswamy: The attitude of @alluarjun - Gokka Makka. perfect commercial trailer this #NaaPeruSurya . Hope the tamil version will also work big time!!
Hemanth Kumar C R: #NaaPeruSurya trailer is quite intense. Eager to see how @alluarjun and rest of the cast have pulled it off...good luck to the team. Releasing on May 4. May the force be with you :)