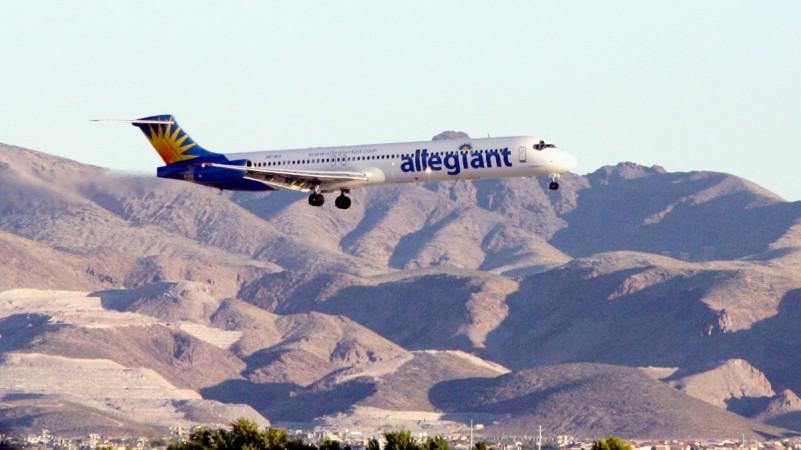 An Allegiant Airlines flight slipped off the runway Sunday, April 8 after it landed at a South Dakota airport in the United States. No injuries were reported.
Allegiant Flight 456, an MD-80 aircraft, was flying from Las Vegas along with 155 passengers and six crew members on board. The incident took place at around 11.40 am local time, when the flight touched down the Sioux Falls Regional Airport.
According to KELO-TV, the McDonnell Douglas MD-80 skidded off at least 20 feet off the runway at the Sioux Falls airport due to heavy snowfall and crosswinds.
Allegiant spokeswoman Krysta Levy said that no passengers were injured as they safely walked down the plane's rear stairs. They were then transported to the airport terminal by buses.
Confirming the incident, Sioux Falls airport Executive Director Dan Letellier said that maintenance workers inspected the plane and were working to get it back on the runway, reports KSFY-TV.
Describing the difficult landing, one flight passenger Glenda Conrad told KSFY-TV, "Everything was going good and all of a sudden, the pilot was bringing the plane down. All of a sudden we're like ok we're stopped abruptly."
"Saw the end of the runway coming up looking out the window. You could feel it kind of catching and sliding, catch and then slid. Seemed like we were coming in a little hot," said another passenger Lee Brixey said. "It wasn't bad. A little hysteria especially once we stopped. Everybody kind of started laughing some applause for a moment."
The Airlines spokeswoman further added that the return flight to Las Vegas had been canceled because of the "rapidly changing weather conditions" at Sioux Falls. An unidentified passenger on another flight at the airport also confirmed the same to KSFY-TV, saying that all the other flights from Sioux Falls were either canceled or delayed due to sudden weather change.
Months ago, a US-Bangla Airlines flight skidded off the runway at Kathmandu's Tribhuvan International Airport that resulted in a horrifying crash. At least 50 out of 71 passengers were killed in the incident. The plane, which was flying from Dhaka, Bangladesh, was caught on fire after it careened off the runway during landing.