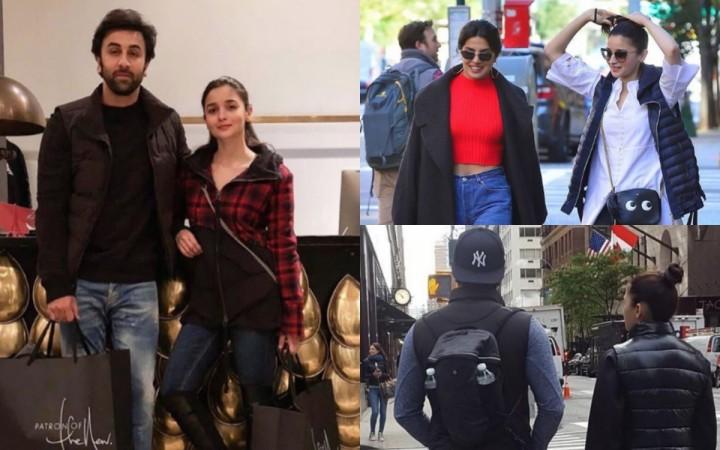 Alia Bhatt and Ranbir Kapoor were spotted shopping in New York City and pictures of them are all over Instagram. The newest couple in Bollywood who star together in Ayan Mukerji's Brahmastra trilogy have been open about their relationship with fans and the media. Alia Bhatt and Ranbir Kapoor shopped at Patron of the New in NYC and also spent time strolling the streets along with Ranbir's mom Neetu Kapoor.
Alia Bhatt is in the US for work commitments, but most importantly she is there to be by the side of Ranbir Kapoor in the hour of crisis when his father, actor Rishi Kapoor is undergoing treatment. Unconfirmed reports suggest that Rishi Kapoor is suffering from cancer. The actor along with Neetu Kapoor and Ranbir Kapoor left for the US for treatment a couple of days before Rishi Kapoor's mother Krishna Raj Kapoor passed away in Mumbai.
Alia Bhatt, then in Mumbai, paid her last respects to Krishna Raj Kapoor and was in constant touch with Ranbir Kapoor about the happenings here, said a report. And now Alia is back with her beau, in New York City to support him as his ailing father undergoes treatment at a hospital there.
Ranbir Kapoor and Alia Bhatt took some time out to shop in NYC along with Neetu Kapoor. Alia has posted a picture from the Big Apple on Instagram, while fans have splashed their pictures on social media.
Alia Bhatt also bonded with actress Priyanka Chopra in New York City.
Alia and Priyanka also made some time for each when she was in India before the Quantico actress's engagement to Nick Jonas, and the two girls were spotted in December 2017 at dinner together. PeeCee and Alia were touted as the new BFFs of B-town, even as the latter continued to flaunt her friendship with other superstar Bollywood actresses like Katrina Kaif, Deepika Padukone and Kareena Kapoor Khan.
In New York, Priyanka Chopra and Anupam Kher were among those who paid a visit to Rishi Kapoor. Actress Sonali Bendre, who is herself undergoing treatment in the US for metastatic cancer, also met the Kapoors.
We wish Rishi Kapoor and Sonali Bendre a speedy recovery. As for Alia Bhatt and Ranbir Kapoor, we see a strong foundation being built for their relationship!