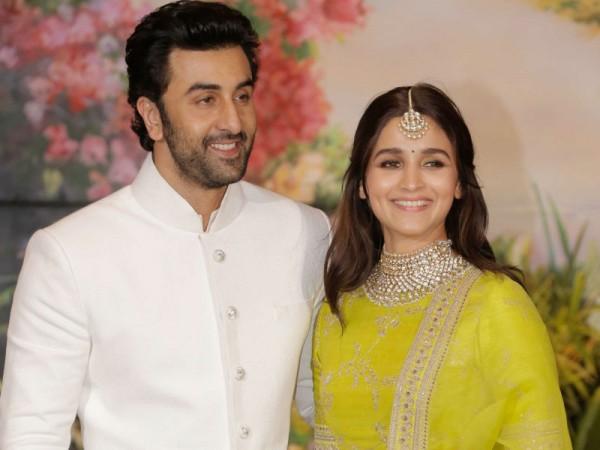 Alia Bhatt is in the news yet again, this time for her rumored affair with Ranbir Kapoor. The actress recently appeared on Rajat Sharma's Aap Ki Adalat and ended up blushing when asked about her Brahmastra co-star.
A promo video of the episode has come up, wherein the host asks Alia about her rumored affairs with Varun Dhawan, Sidharth Malhotra, and latest Ranbir Kapoor.
In response to the rumors of her relationships, Alia first said, "Even if something is going on, I don't want to accept it." As soon as Sharma's took Ranbir's name, Alia ended up covering her face with her hands, as the audience made a shout out. Alia then said, "My face has gone red. I am trying to control it."
Although Alia's reaction seemed to be in jest, there was a bit of discomfort on her face as soon as Ranbir's name came up.
Rumors of the Raazi actress's linkup with Ranbir started doing the rounds since the making of Brahmastra. Reports of the two being spotted together at multiple dinner dates and events further fuelled the buzz.
Even recently, Alia shared a picture on Instagram that showed her and Ranbir together. Although she didn't put any caption to it, many people close to the actress commented on it with heart emojis.
Alia's fondness for the Rockstar actor is not new. During her appearance on Koffee With Karan in 2014, she had openly said that she wanted to marry him.
"I remember the first time I spoke to Ranbir. You called him up when 'Rockstar' released and you said, here talk to Ranbir tell him how much you love him. And I just spoke so much rubbish, I was just talking non-stop. But later I have hung out with Ranbir and I still think he is really adorable and I still want to marry him," Alia had said on the show when Karan Johar asked her about Ranbir.
Well, whether the rumors of Alia and Ranbir's affair are true or not, they certainly look gorgeous together. Watch the video here: