Akul Balaji is the winner of the second season of Bigg Boss Kannada. The popular TV anchor beat Srujan Lokesh in the final lap to lift the trophy, which was won by actor Vijay Raghavendra in the first season last year, thus bringing the 98-day game show to an end.
The Final Four
In the last segment, the battle for the Bigg Boss Kannada 2 trophy was closely fought between four players (Akul Balaji, Srujan Lokesh, Deepika Kamaiah and Shwetha Chengappa). Shwetha was the first to be eliminated in the grand finale, followed by Deepika.
Akul Balaji and Srujan Lokesh were the last two contenders, of which the former was declared winner by Kiccha Sudeep based on audience votes. The announcement did not come as a surprise to many because netizens had a hint of it after a picture of Akul holding the trophy going viral on social media websites on Sunday morning.
After the result declaration, the winner and the runner-up thanked people for consistently voting for them. They also said that their stay in the Bigg Boss Kannada house will always be a special chapter in their lives.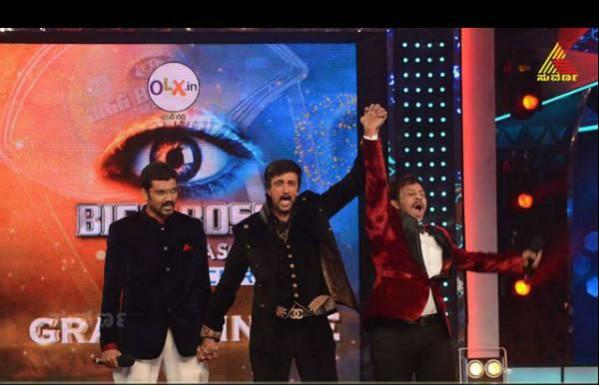 Almost all the contestants (Aadhi Lokesh, Anita, Anupama, Laya, Mayur, Neethu, Rohith and Santhosh ) were part of the grand finale, which was aired on Suvarna on Sunday evening (October 5). Shakeela, Harshika Poonacha and wildcard entrant Guruprasad skipped the occasion for the reasons best known to them.
The evening turned livelier when Sudeep played selected AVs of the contestants. It was a recap of memorable moments consisting of funny, emotional and controversial scenes from the Bigg Boss Kannada House.
Mixed Response:
As always, people are divided over the verdict. A section of people are unhappy with the results. A lot of people on social media websites have been expressing their angst over Akul Balaji being declared the winner of the second season of Bigg Boss Kannada. The result has mainly upset Srujan Lokesh's fans.