Akshay Kumar's son Aarav Bhatia has become an eye candy for shutterbugs and he often gets photographed whenever he accompanies his parents during the family outing. But this time around, he was recently body-shamed by a section of people after he got papped outside the Kalina airport in Mumbai which is used for private charter flights.
Aarav Bhatia was spotted wearing dark blue shorts paired with black tee and a hawai shirt along with casual white shoes carrying a backpack when he stepped out of the Kalina airport.
While Aarav looked quite exhausted after his journey, he soon became a victim of online body-shaming which the young lad would never have anticipated to come his way. Some people started criticising and shaming him for his looks for no reason whatsoever.
People started calling him by names like 'Saand', 'Pahalwan', 'Bhaisa' and 'Genda' going by the size of his body. And there were many who threw nasty comments shaming him on social media.
However, there were a few people who came to Aarav's rescue and lambasted those who critcised the 16-year-old. "Never underestimate ! He will come out tough n dapper in future ! He is just a teen now ! All of us were teenagers before - I don't remember being besutifull then," a user commented in support of Aarav.
Earlier, Sunny Deol's son Karan Deol was also body-shamed when he was clicked while strolling down the streets of Mumbai.
Take a look.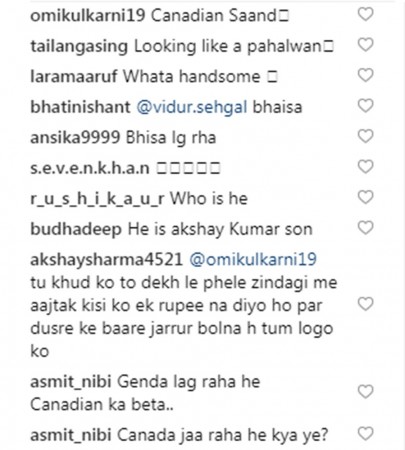 On a related note, grapevine had suggested that Akshay Kumar's son Aarav was already gearing up to step into the entertainment industry along with his friend Ibrahim Ali Khan, son of Saif Ali Khan.
However, Akshay Kumar feels that Aarav is too young to make a Bollywood debut as he is currently pursuing his studies. The actor added that he's still unaware whether his son will get into the industry.
"I don't know about others. As for Aarav, he is too young and currently, he is interested only in his studies. I'm not aware if he will get into the industry. I'm not pushing him. Today's children have a mind of their own. My son is no different. Once he wraps up his studies here in Mumbai, he wants to go to a school in London, which he has already selected. I let my kids be the way they want to be," Akshay told DNA.
Akshay has made Aarav quite independent as he had said that his job is just to sign as a guardian and pay his fees.