Sunny Deol's elder son Karan Deol will soon be making his Bollywood debut next year with his upcoming film Pal Pal Dil Ke Pass but it looks like people aren't ready yet to accept him as their typical Hindi film hero. The young star kid was recently body-shamed by a section of people after he got papped in the city.
Karan Deol was spotted wearing a casual blue T-shirt paired with black pants and white sneakers during his recent outing. While it was one of the rare sights of the third generation of the Deol family, some people started criticising and shaming him for his looks for no reason whatsoever.
From his hair to his overall physical appearance, Karan Deol soon became a victim of online body-shaming which the young lad would never have anticipated to come his way.
Even before he could showcase his acting talent on the big screen, an online user called him a 'flopstar'. While some kept discussing about his age saying that he looked quite older, some suggested him to lose atleast 20 kgs to look good and be eligible to get launched in Bollywood.
Some even went on to say that Karan was looking like a one of the street goons while some said that the star kid has started losing his hair.
Take a look.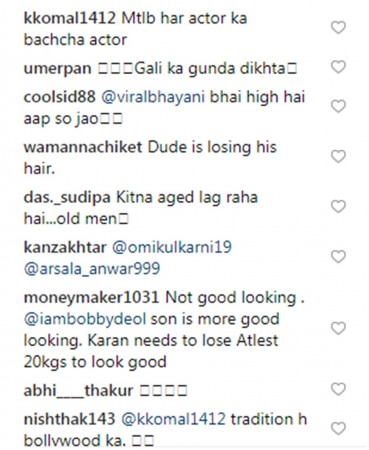 On a related note, with movies like Dillagi, a love triangle featuring Sunny Deol himself alongside younger brother Bobby and Urmila Matondkar, in 1999, Sunny Deol's endeavor as a director has been a decent one. He returned 17 years later with Ghayal Once Again and is now all prepared to launch his son and Seher Bamba in his third directorial project.
Considering the fact that a star kid also has to undergo a lot of pressure, veteran actor Dharmendra agrees that launching Karan is a huge responsibility. He quoted, "Every father dreams of creating something beautiful for his child. It's Sunny's dream too and being Karan's gradfather I share it. But in a world of make-believe, success comes by chance no matter how hard you work. Fortunately, the love of the people has been with us through the last six decades aur duaayein bahut kaam aati hai"
On being asked if Karan is more like of his father or grand-father, Dharmendra added, "There's a bit of all of us in him but eventually he's a unique individual."
The film borrows its title from a song of Dharmendra's 1973 film Blackmail. Since the song is apt for a youthful romantic feature and plus is one of Sunny's favorite numbers, he couldn't think of anything else. Sunny added, "Love is so beautiful, precious and pure, till the cracks appear."