Twitter is one risky social media platform where even a small mistake leads to heavy trolling and Sonam Kapoor almost fell victim when she tagged a wrong Twitter handle of a Bollywood actress-turned-producer.
Also Read: Sonam Kapoor and Kareena Kapoor Khan to appear on Koffee With Karan 5
On Tuesday, Sonam announced her upcoming Bollywood movie Padman with Akshay Kumar. She wanted to say that she was excited to come on board with director R Balki, Akshay and his wife Twinkle Khanna. But instead of tagging Twinkle's Twitter account @mrsfunnybones she tagged @Missfunnybones.
"Thrilled to be a part of this prestigious project. #rbalki @akshaykumar @missfunnybones," she tweeted on Tuesday.
This would have gone unnoticed, but soon some fans of the actress pointed out saying that she had tagged the wrong Twitter handle. On Wednesday, Sonam tweeted the same tweet with the correct Twitter handle, but she did not delete the first tweet.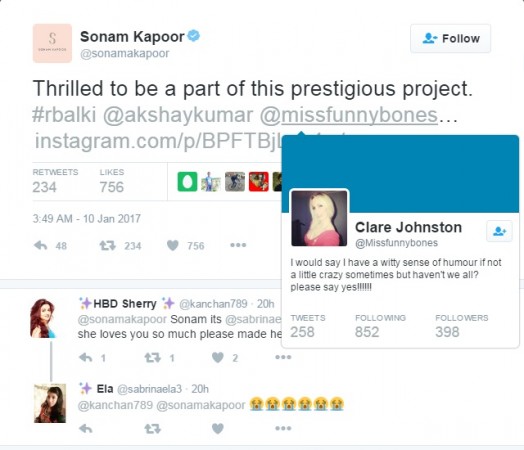 Sonam's fans replied to the tweet with @missfunnybones handle. While some congratulated her, some pointed out that she has tagged the wrong handle.
"@sonamakapoor tagd the wrong @mrsfunnybones it is. Better tag the correct handle b4 the PRODUCER kicks u out of ur ONLY hit movie of da year," a Twitter user with @Bid_wish replied.
"@sonamakapoor @akshaykumar @Missfunnybones You tagged wrong funny bones ....it's @mrsfunnybones," user @NaamHaiBoss tweeted.
This is not the first time a celebrity has mistakenly tagged a wrong Twitter handle. Last year, Tara Sharma was trolled heavily when she mistakenly tagged the wrong junior Bachchan. Tara tagged @juniorbacchhan instead of @juniorbachchan and thanked him and Aishwarya Rai Bachchan for the party. In her response, the parody account replied, "Thanks Tara ! We too had a great time. Next time pls drink less so that u know which handle to tag in your tweets. This is the 2nd time now."
Tara deleted the tweets later.