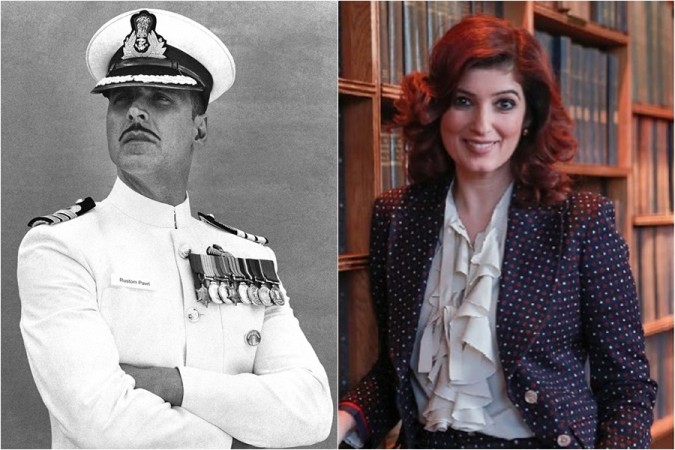 Akshay Kumar has jumped to wife Twinkle Khanna's rescue when Mrs Funnybones recently got trolled for auctioning the actor's naval uniform from Rustom. The Khiladi Kumar was seen stepping into the shoes of Naval officer K.M. Nanavati who was tried for the murder of his wife's lover and businessman Prem Ahuja. The case infamously known as K. M. Nanavati v. State of Maharashtra had rocked the entire nation in 1959.
Defending Twinkle, Akshay, who was present as the brand ambassador of New India Conclave on Tuesday evening, said the auction intends to support a good cause and he has not done anything wrong.
"I support my wife on that matter. I and my wife are doing some work with good intention for a good cause. That was a costume that I used in the film. It is going for (for auction) a good cause. I do not think we have done anything wrong," Akshay said when he was asked to comment on the ongoing controversy.
"If anyone finds it wrong then it is okay. I cannot do anything on that," Akshay added while replying to the question raised by the media in the presence of Maharashtra Chief Minister Devendra Fadnavis.
The controversy started when a person took to Facebook to express his opinion on why the 'auction of a naval officer's uniform' is wrong. That was further tweeted to Akshay's wife Twinkle Khanna.
Responding to that, Twinkle said: "As a society, do we really think it's all right to threaten a woman with bodily harm for trying to raise funds for a charity by auctioning a uniform used in a movie, a piece of film memorabilia? I will not retaliate with violent threats but by taking legal action!"
The troller had said: "You touch our honour and we will give you a bloody nose."
On April 26, Akshay tweeted "Hi all, I'm thrilled to announce that you can bid to win the actual naval officer uniform I wore in Rustom! Auction's proceeds will support the cause of animal rescue and welfare. Place your bid at http://www.SaltScout.com !"
(With IANS Inputs)