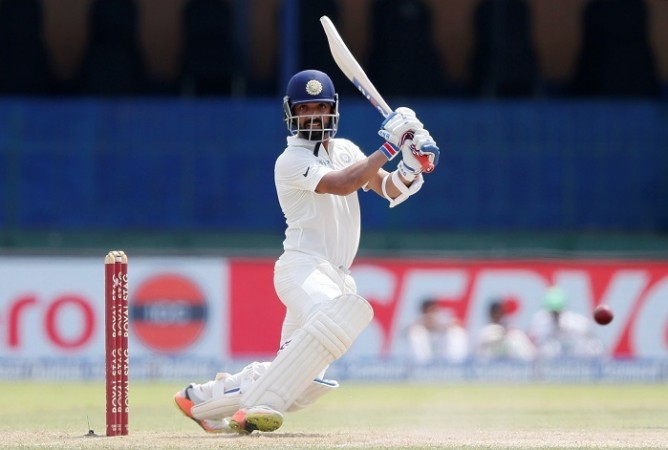 India's Ajinkya Rahane struggled in the just concluded three-Test series against Sri Lanka. The team's vice-captain's failures has resulted in an argument between former cricketers.
Also read: Fans attack Ravindra Jadeja
Rahane scored just 17 runs from five innings against Sri Lanka. He had scores of 4, 0, 2, 1 and 10. In the second innings of the third and final Test in Delhi, he was promoted to number three to help him regain form but it did not work.
Also read: Will new captain Rohit create history?
When Rahane was out to bat at number three at Delhi's Feroz Shah Kotla stadium, former India opener Aakash Chopra took to the micro-blogging website Twitter to call it as a good move.
"Good on India to send Rahane at 3....must get some runs before boarding the flight to SA. #IndvSL," Chopra tweeted. He was also part of the "Star Sports" commentary team for the Test.
For this tweet, former batsman Vinod Kambli replied, "MR CHOPRA, how will he get runs? Can you suggest."
With no response from Chopra, Kambli, next morning, asked, "@cricketaakash . Good morning to you Mr Chopra. Kindly reply to my previous tweet, our entire cricketing nation wants to know."
This might have angered Chopra and he shot back, "G'mrng, hope you're well....please provide proof that the entire cricketing nation wants to know."
Kambli was not the one to back out and he put the ball back in Chopra's court by asking him to answer the question.
"@cricketaakash.Mr Chopra the main question remains unanswered. Where and how he should scores runs?."
Finally, Chopra decided to close the argument when he asked Kambli to call him and they can discuss personally and not on social media.
"We should get on a call and discuss this...instead of doing it here. You know where to get my number from..."
Here are the tweets between the two former cricketers
Good on India to send Rahane at 3....must get some runs before boarding the flight to SA. #IndvSL

— Aakash Chopra (@cricketaakash) December 5, 2017
@cricketaakash .Good morning to you Mr Chopra.Kindly reply to my previous tweet,our entire cricketing nation wants to know???

— VINOD KAMBLI (@vinodkambli349) December 6, 2017
G'mrng, hope you're well....please provide proof that the entire cricketing nation wants to know ??

— Aakash Chopra (@cricketaakash) December 6, 2017
We should get on a call and discuss this...instead of doing it here. You know where to get my number from... ??

— Aakash Chopra (@cricketaakash) December 6, 2017