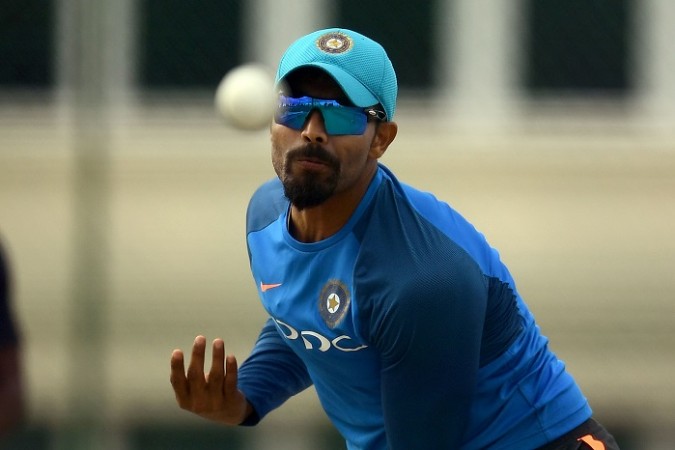 Every cricketer loves to hear praises from fans. India all-rounder Ravindra Jadeja too got his share but that person reffered the left-hander with the name of another cricketer leaving him irked.
Jadeja, who was part of India's Test squad recently which won the series against Sri Lanka in Delhi, was congratulated by a fan. However, instead of addressing him Raivndra Jadeja, he called him Ajay Jadeja, the former India all-rounder.
The player was so upset that he called that person "stupid". He took took the micro-blogging website Twitter to share the incident.
"Someone came to me and said"well ball ajay. you bowled brilliantly in last match".played 9 years of international cricket for country and still ppl dont remember my name.#stupidity #gavaar," Jadeja tweeted to his nearly 1.5 million followers.
Ajay Jadeja, who played 15 Tests and 196 ODIs, had a huge fan following during his playing days. Now, Ravindra too has his set of supporters. But this person seems to have mixed up the names.
Once Ravindra posted that angry message on Twitter, he was attacked by few fans calling him "arrogant".
"Its not #Stupidity of that person. In fact, it means you didn't perform or outshine on that level, which would force people to remember your First name. I am not sure, but that person must have confused you with the legend Mr. #AjayJadeja. #NotGavaar #DonotBeOverSmart," one Twitter user replied.
Another person wrote, "I agree with you. It manifests RJ's cockiness. Whoever called him Ajay might have made a genuine slip of tongue error. He got offended that shows his arrogance. I am sure Tendulkar or Sehwag wouldn't have taken any offence purely bcoz they r grt and he is far from being grt."
He added, "These new guys think they play for India so they are doing a favour on our nation. U r getting millions for playing so don't think u r doing any favour. I only respect our soldiers becoz they don't get paid like u lot and they sacrifice their lives for our nation #trueheroes."
Another person told Ravindra to calm down. "Don't Be Angry Yaar You Concentrate on Making your Name a BRAND even more Reliable Trust Worthy," he wrote.
Here are the tweets
Someone came to me and said"well ball ajay. you bowled brilliantly in last match".played 9 years of international cricket for country and still ppl dont remember my name.??#stupidity #gavaar

— Ravindrasinh jadeja (@imjadeja) December 8, 2017
These new guys think they play for India so they are doing a favour on our nation. U r getting millions for playing so don't think u r doing any favour. I only respect our soldiers becoz they don't get paid like u lot and they sacrifice their lives for our nation #trueheroes

— Ankur (@ankurmittal009) December 8, 2017
I agree with you. It manifests RJ's cockiness. Whoever called him Ajay might have made a genuine slip of tongue error. He got offended that shows his arrogance. I am sure Tendulkar or Sehwag wouldn't have taken any offence purely bcoz they r grt and he is far from being grt.

— Ankur (@ankurmittal009) December 8, 2017
Saurabh ji, I do agree with you but my concern was with @imjadeja saying that person "Stupid" n "Gavaar" although that person did praised his bowling. Being a gentleman cricketer, Mr. Jadeja shd not use such demeaning words for him/her.

— Vini (@v8smith8) December 8, 2017
Related
Will R Ashwin and Ravindra Jadeja play in South Africa? Captain Virat Kohli answers
2nd Test: R Ashwin equals legends Shane Warne and Muttaiah Muralitharan's record