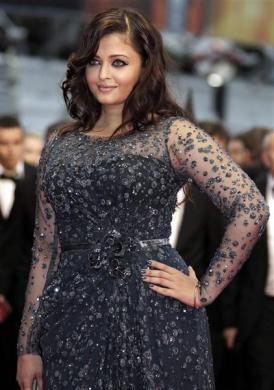 Abhishek Bachchan is on cloud nine and enjoying the success of his new romantic comedy film "Bol Bachchan" which is doing extremely well at Box Office.
The actor after delivering a series of unsuccessful films, is back with a hit with Rohit Shetty's "Bol Bachchan".
"I feel on top of the world," Abhishek said. Is it because of his eight-month-old daughter, Aaradhya, who has brought good luck to him?
Well, the actor doesn't think so and doesn't want to put any pressure on his little bundle of joy. Abhishek recently said in an interview with a leading daily said that the success of his latest release should not be credited to his daughter 'bringing him luck.'
"I don't want to think like that. I don't want to put that kind of pressure on her. It's unfair! My daughter is separate from my profession. I can't blame her for my failure or my success. She's brought immense pride and happiness, and that's what I'm happy about. As for luck, it has a weird way of improving. The harder you work, the faster it moves. I attribute my film's success to the whole team, especially Ajay (Devgn) and Rohit (Shetty)," Abhishek told the leading daily.
When asked on why the Bachchan's are keeping away the new member from the Indian Media or if they are having some deal with an international magazine for her first look, Abhishek replied, "That's not the case. I take offence to the words 'shielding' and 'hiding', which have been so generously used."
"My daughter is not an object to flash around or a prized item to put on display. She's a small baby. As a parent, it's my choice how I want to bring her up. I had a middle-class upbringing. We weren't given special treatment. I didn't realise dad was a star till my teens. He was Pa, and mom was Ma. We were not made aware of their celebrity status. Mom ensured that. I want my daughter to grow up as normally as I did," he said.
Aaradhya has been in news since the time she was born. The whole world is now curious to know whom does she look like. And Abhishek breaking the curiosity said that "A baby's face changes every two days. It's a general consensus that she's the perfect mix of the two of us."
However, the actor is sad for not spending enough time with her cute toddler. He said "I want to spend more time with her, but work keeps me busy. When she was born, I was busy shooting for "Bol Bachchan". Now, I start shooting for "Dhoom 3" this week."
Also Read: Amitabh Bachchan to Endorse for Kalyan Jewellers; Will Aishwarya Rai Make a Comeback with Father-in-law?