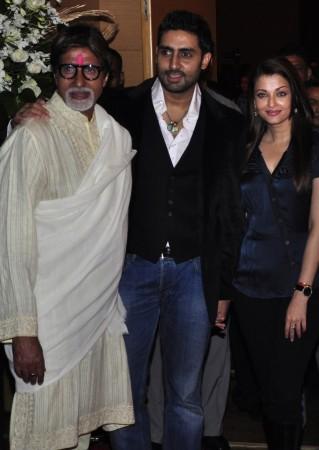 Following a successful stint with Tanishq, Bollywood megastar Amitabh Bachchan has become the brand new ambassador of Kalyan Jewellers and will be seen endorsing the jewellers' range of products.
T.S. Kalyanaraman, Managing Director of Kalyan Jewellers, said that signing on the Bollywood superstar as brand ambassador was a strong step towards the evolution of the Kalyan brand in India.
Kalyanaraman also said that "the stars' popularity and fame both nationally and globally is unparalleled. Kalyan Jewelers has 35 stores spread over the four southern states with a turnover of 9,473 crore in the year 2011-12 and is the single largest self-owned jewellery chain in the country."
"Our products are known for its combination of style and performance and world class quality. Bachchan embodies an exemplary blend of both style and performance, making him the ideal choice to endorse our products. With his remarkable appeal across all sections of people in the country, we are confident Bachchan will communicate our brand's attributes to our consumers effectively," said Kalyanaraman.
A press release issued by the group quoted the actor as saying: "Throughout my career I have been very selective about aligning myself with brands. Kalyan Jewellers are an iconic jewellery brand with a great heritage and strong presence in South India. I am overwhelmed to partner with them and represent the brand across India."
Earlier in April, there were reports that Aishwarya Rai Bachchan signed a ₹100 million endorsement deal with Kalyan Jewellers. It was also reported that the actress will make a comeback alongside her father-in-law as a brand ambassador of the group.
"We hope to ink the agreement soon. This will be a huge campaign reflecting the credibility and versatility of the Kalyan group. We always underline the value of trust in relations. The Big B-Ash combination will provide a big boost to our image," a senior executive with Kalyan Jewellers told The Times of India in April.
Managing Director of the Kalyan group also said that they were to start shooting for the ad as soon as Ash was "back in action".
The former Miss World's fans are eagerly waiting for Ash to make her comeback in the film industry. Being not in a hurry to do so, the Bachchan bahu, who was criticised for her post-baby weight gain, is enjoying motherhood with eight-month-old daughter Aaradhya.