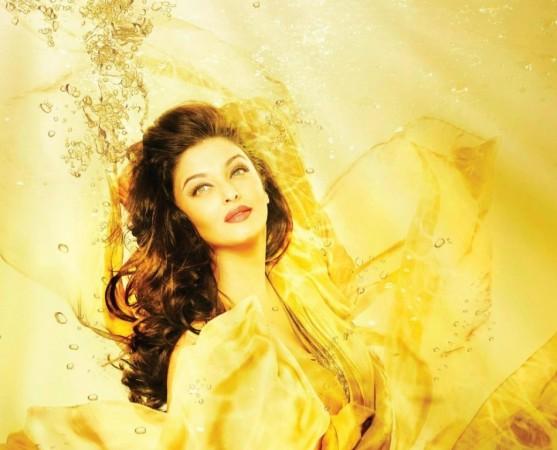 Bollywood actress Aishwarya Rai Bachchan, who was harshly criticized for her weight gain, has slammed critics again with her comeback in a recent jewellery advertisement.
Several months after Aaradhya's birth in November, Aishwarya was announced as the brand ambassador of Kalyan Jewellers. This time, the actress came back with a bang, appearing in the advertisement itself.
The jewellery group unveiled the first pictures of the print ads featuring Aishwarya on their Facebook page, titled "Diva".
The 38-year old, who is now a part of the group's "Golden Girl" campaign, looked slimmer and stunning as a golden goddess in the commercial. The commercial, which was shot by Shrikumar in Mumbai, appeared like it was taken underwater.
"This is my first ad with Ash. What impressed me about her was a passion for detailing, Shrikumar said according to The Times of India. "There are a few interesting underwater shots in the ad too. For me, it has been the most memorable experience shooting with her."
"Ash did a photo-shoot for a jewellery brand. Having lost oodles of weight, there is a marked glow on her face and she looks even more ravishing now," TOI cited a source as saying.
The last commercial Aishwarya shot was when she was six months pregnant. Post delivery, her top priority was Aaradhya, though it now seems that the actress is itching to make a comeback.
On Aug 19, she along with Amitabh Bachchan will make a public appearance in Kerala for the jewellery group. Bachchan recently shot a commercial advertisement for Kalyan.
Earlier, T.S. Kalyanaraman, Managing Director of Kalyan Jewellers, said that "signing on the Bollywood superstar as brand ambassador was a strong step towards the evolution of the Kalyan brand in India. The stars' popularity and fame both nationally and globally is unparalleled."
The prints ads couldn't have come at a more appropriate time for the actress, who has been long targeted for her post baby weight gain. Recently, Kareena Kapoor launch a verbal attack on Aishwarya, saying that the "actress belongs to different generations."
However, Aishwarya's new photo shoot for the jewellery brand proved that her beauty spans across all generations.