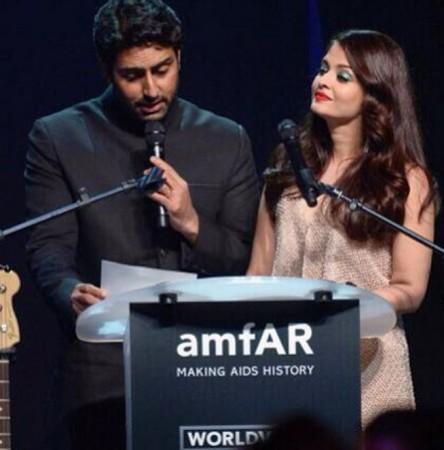 Aishwarya Rai Bachchan could soon visit Chennai to support her husband's football team Chennaiyin FC. Aishwarya may be the world's most beautiful woman, but she is also a very supportive wife.
She attends almost all her husband Abhishek Bachchan's events whether its related to movies or sports.
Last time, she was seen cheering her husband's Kabaddai team Pink Panthers and now she will cheer for his football team in Chennai.
Abhishek was in Chennai for the Chennaiyin FC vs Kerala Blasters match last night, along with father Amitabh Bachchan, cricketer Sachin Tendulkar and superstar Rajinikanth.
After the match, Abhishek told Deccan Chronicle that his wife will soon visit the city to support his team. "Ash will come for one of the games," he said.
Abhishek has received support from his wife Aishwarya and father Amitabh. So when asked whether Aaradhya will also love sports as much as her father does, Abhishek replied that she will love it.
"She is only three. Let her grow up. I'm sure she will enjoy sports. She is my daughter after all," he said.
Aishwarya Rai has been a very supportive wife and Abhishek has always maintained that she is his very good friend.
"Aishwarya is my anchor. She is my buddy, my closest friend. I can discuss anything with her. Our relationship is not based on her being Aishwarya Rai or me coming from an illustrious family. It is just about two people falling in love which has grown organically. We started during "Guru". It was meant to be," Abhishek revealed during the chat show "Look Who's Talking With Niranjan Iyengar".
Abhishek and Aishwarya have been married for seven years and have a three-year-old daughter Aaradhya. Aish-Abhi are called as one of the hottest couples of B-town.
Earlier this year, there were rumours that the couple is getting divorced, but Abhishek slammed the reports on Twitter.