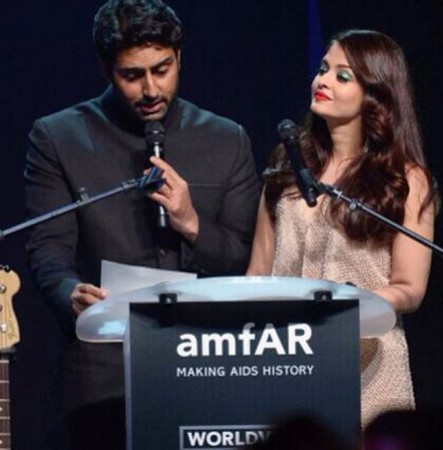 Aishwarya Rai Bachchan is holidaying in London with husband Abhishek, daughter Aaradhya and other family members.
After attending the 67th Cannes Film Festival, the actress flew down to London with her daughter. Aishwarya Rai, who is the goodwill ambassador of Smile Train, attended a reception at 10 Downing Street on behalf of the NGO last week.
Later, Abhishek joined her in London. Abhishek, who attended the amfAR gala dinner with Aishwarya, was shooting for his film "All is Well" also starring Asin Thottumkal in Shimla.
After finishing the shooting schedule, he flew down to London on 6 June for some work. The "Dhoom" series actor later decided to extend his stay and spend some time with his family, The Times of India reported.
He joined his family – Aishwarya, Aaradhya, his mother Jaya, sister Shweta and niece Navya Navelli - in London on Monday.
However, Amitabh Bachchan won't be able to join his family due to some prior commitments.
"Its been a family that travels .. Jaya is with the daughter and the grand daughter in London, Abhishek shoots for 'All is Well' in Shimla and keeps travelling off to Mumbai, Chandigarh and Simla .. he is on his way now to Cannes to be with the festival authorities and Aishwarya and the baby .. to be back after a day to Shimla, and then join up again with the rest of the family in London in a week," senior Bachchan posted on his blog earlier in May.
"My schedule with Balki underwent a change and so I had to cancel overseas trip, but shall be rescheduling soon and shall keep all informed .. Looks like Harvard, Boston ... but shall converse and note .. its reference shall be made later in the day," he added.
Aishwarya Rai-Katrina Dinner
In May, a gossip website Masala reported that Salman Khan's exes Katrina Kaif and Aishwarya were spotted having dinner at a restaurant in Abu Dhabi. [Read the report here]
But that report turned out to be false, as Aish's publicists has slammed the report. The "Raavan" actress flew down to Cannes to attend the International Film Festival and from there she went to London.
"Where & why did this rumour of Aishwarya dining with Katrina in Abu Dhabi start????...SILLY FABRICATION...She travelled to Cannes and then straight to London where she is at present which the media is aware of," Archana Sadanand, Aish's publicist, tweeted.