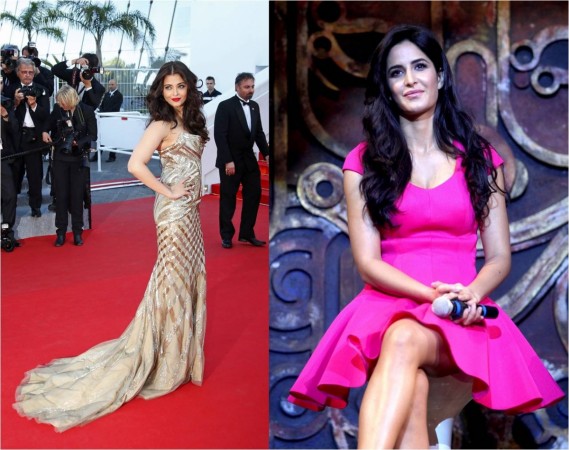 Bollywood divas Aishwarya Rai Bachchan and Katrina Kaif, who are apparently Salman Khan's ex-girlfriends, bonded well in Abu Dhabi, UAE.
It seems the two leading divas of Bollywood - Bachchan and Kaif – have buried their ugly past. The two actresses were recently spotted having dinner at a restaurant in Abu Dhabi.
"Aishwarya was dining with Katrina at celeb favourite Zuma in Abu Dhabi last week," gossip website Masala quoted a source as saying.
The actresses met on 17 May, just before Bachchan attended the 67th Cannes Film Festival. Kaif and Bachchan were also accompanied by a female friend at the restaurant.
While, Kaif was in Abu Dhabi for the shoot of the film "Bang Bang," which also stars Hrithik Roshan, it is not clear why the Bachchan bahu was in the city.
It is believed that the former Miss World's stopover in Abu Dhabi was due to the air traffic controllers' strike in France.
The "Jodha Akhbar" actress along with her daughter Aaradhya and mother Brinda Rai had left for Cannes on 14 May, but could not reach France due to the strike.
The two actresses, who were once known for their catfights, bonding well, come as a surprise to their fans.
Not too long ago, there were reports that the Bachchan bahu gave a cold shoulder to Kaif, when she visited the sets of "Dhoom 3" in the US. In August 2013, Ash replaced Kaif in a real estate advert, which reportedly didn't go down well with the latter.
Last year Kaif was announced as the brand ambassador of the cosmetic group, which Bachchan has been endorsing for the past 12 years. Apparently, the Bachchan bahu wasn't pleased with the development.
"Now Katrina Kaif joins the ranks. While there were reports of ARB not being happy when the younger actress was brought on board, Sonam is thrilled with the entry of Kat into the brand," DNA reported.
But later the beauty queen greeted Kaif for joining the cosmetic group. "I would like to extend a warm welcome to Katrina to the L'Oreal Paris family. I am sure she will enjoy representing team India as brand ambassador and I wish her the very best," Bachchan said, according to Press Trust of India.