Popular network service provider Airtel has ended incoming call support for prepaid consumers with a low balance from 3 January onwards in India.
Airtel has started sending messages to prepaid customers about the disconnection of calling services and has advised them to either subscribe to Unlimited or Smart pack to regain the network support.
Depending on the currency charge pack, the validity extension is between 28 days and 90 days. With this new tariff structure in place, consumers have to pay either monthly or every 80-90 days to keep their Airtel connection active.
This comes just weeks after Vodafone-Idea started asking their customers to maintain a minimum balance of Rs 35 or lose connection.
If not interested in continuing with the aforementioned telecommunication companies, consumers can port their number to Reliance Jio or BSNL for that matter.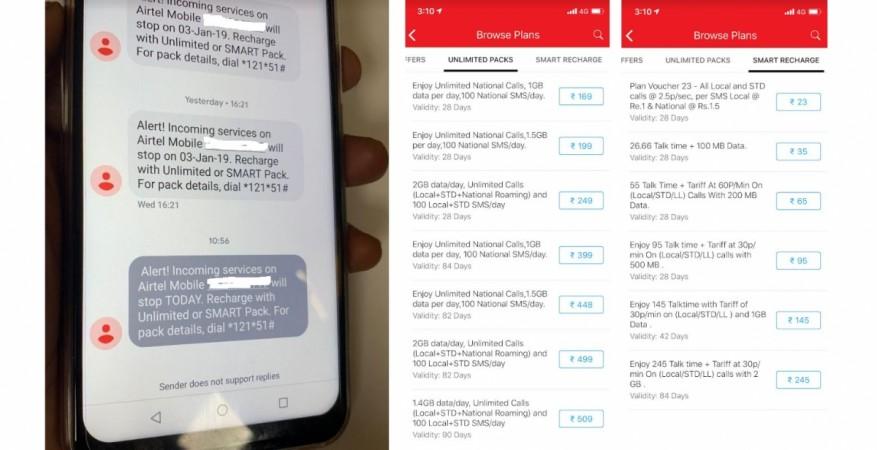 Here's how to port from one service provider to another:
Step 1: Send SMS: PORT your 10-digit phone number to 1900 and then you will receive the Port out code number via SMS
Step 2: Go to the nearest telecom company store or branch office and show the port out the code and also fill the KYC (Know Your Customer) form and submit to the representative present their
Step 3: Once all formality is done, you will get a new SIM card with the same existing phone number and activation details will be messaged to you (It should happen within a day).
Note: Make sure you have settled all the outstanding bill of the old service provider before porting to the new one.
For more than two years, Airtel has been doling out lucrative deals to keep its customers from migrating to Reliance Jio. Vodafone and Idea, in their bid to consolidate their presence in the market, merged to become India's biggest telecom company, but going by the Reliance Jio's marketing strategy, they won't be staying on top for long. Some brands such as Aircel and Telecom have retired.
While Bharat Sanchar Nigam Ltd (BSNL) is funded by the government, it is still surviving the Reliance Jio's onslaught with lucrative tariff plans, but we are not sure for long it can sustain the fight.
Recently, Reliance Jio launched Happy New Year offer giving customers full 100% cash back for subscribing to Rs 399 plan. Consumers can redeem the amount to buy accessories, footwear at AJio.com.
Now, it looks like Airtel, Vodafone-Idea and others have lost steam to counter Reliance Jio's steady climb in terms of customer base since its debut in 2016.
This move is likely to cost both the companies millions of customers, but they are optimistic of getting them back with value-added services like collaboration with media streaming firms such as Hotstar, Amazon Prime Video and Netflix, among others in addition to improving connectivity and internet speeds.