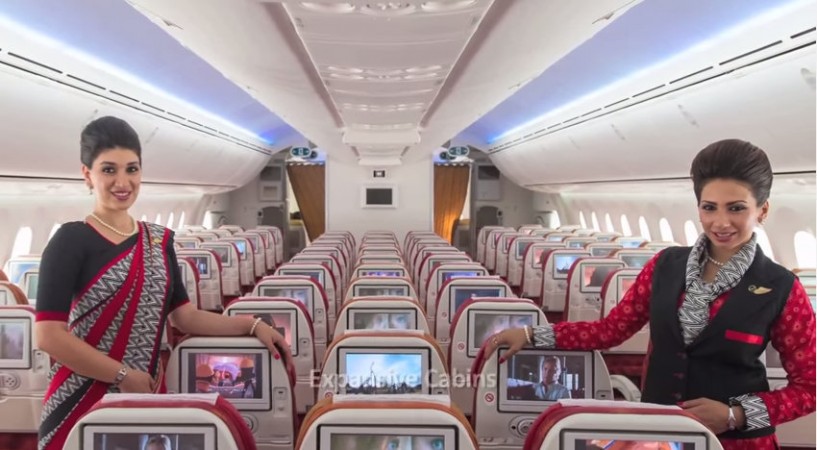 State-owned carrier Air India is planning to follow the "reserve bench" concept of the IT industry in a bid to avoid problems arising out of cabin crew shortage in daily operations.
The carrier is looking to recruit nearly 1,500 people on contract basis on a standard salary and use them as reserves, a senior Air India official told Business Standard.
"The base salary will be Rs 40,000-50,000 a month. Whenever they fly, they will be compensated, depending on the flying hours," the official said.
Air India targets to take the number of employees on the reserve bench to 25% of its total headcount. Currently, the carrier has nearly 3,200 cabin crew on its payroll.
"At present, 60% of our crew fly abroad and have to be given rest periods according to regulations. Plus, 20% of the workforce is on leave at a single time, leading to shortage of staff," he said.
The airline plans to place the reserve crew in key locations, particularly metros.
"We plan the scheduling in such a way that if the first flight from the metro can fly on time, we can maintain a better on-time performance (OTP). The target that has been given is 93% OTP," said the Air India official.
The need for more crew members in Air India has arisen due to an increase in the number of domestic flights operated by the airline.
Air India is expected to post an operating profit of about Rs 6 crore in the current fiscal year, its first since the merger of Indian Airlines into Air India in February 2011.
Currently, the national carrier has 21 Boeing 787-800 aircraft, and each Dreamliner can carry 256 passengers in a single flight compared, to the 195 seat capacity in older aircraft.
An increase in the Dreamliner's capacity is letting Air India improve its operational efficiencies as it can carry more passengers per flight.