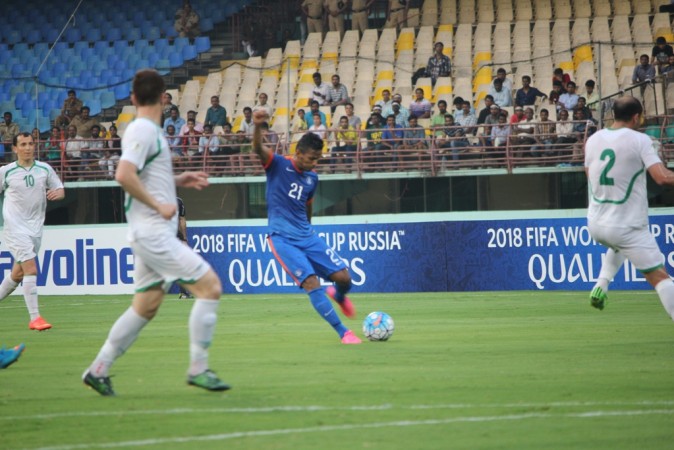 The All India Football Federation (AIFF) has said it is willing to review the performances of India national football team coach Stephen Constantine ahead of the Asian Cup qualifiers playoffs, scheduled for June. The British coach came under fire after his tactics failed to guide India to another win in the 2018 World Cup Qualifiers against Turkmenistan in Kochi Tuesday.
The Blue Tigers' poor performance in the second half of the match drew criticism from a lot of fans as the away side made a good comeback to record a 2-1 win.
Constantine's army finished at the bottom of Group D from the AFC zone of the World Cup Qualifiers and now have to participate in the playoffs of the 2019 Asian Cup qualifiers in an effort to reach the final round of the continental competition.
AIFF General Secretary Kushal Das has said although India team had a bright start to the calendar year by winning the SAFF Cup 2015, its performance in the two consecutive World Cup Qualifiers has been dismal. Before the Turkmenistan game, India had March 24 lost to Iran 4-0.
" [The Asian Cup Qualifiers] Playoffs will be a different story. We have to do whatever is best for the team," Das told the Indian Express. "Definitely a review [of Constantine's performance] has to be done. [sic]
"As far as World Cup qualifiers are concerned, the performance in World Cup qualifiers is not good. We won the SAFF Championship but it's a different ball game. We are all at loggerheads as to why the national team is not really performing. I think their capability is much more.
"Sunil (Chhetri) also admitted it. We have to figure it out," he added.
Chhetri didn't participate in the game against Turkmenistan after he was not deemed fit. The star forward suffered a groin injury and had missed the Iran game as well. The 31-year-old was however visibly upset with India's performance in the second half as he watched the game from the sidelines.
"There are no excuses," Constantine declared in the post-match conference regarding his side's performances. "To be honest, we started very poorly and if we look at ourselves, we got exactly what we deserved from the game," the British coach was quoted as saying in a statement released by AIFF.
When asked about not fielding Chhetri in the match, he said he was not in a position to risk the experienced forward as it could have been consequential. "I am not the kind of coach to play a player who is injured," the 53-year-old said.
"He [Chhetri] is recovering from injury that he's had for quite some time. I could have easily played [him] for the last 15 minutes but that would have risked him for the next six months."