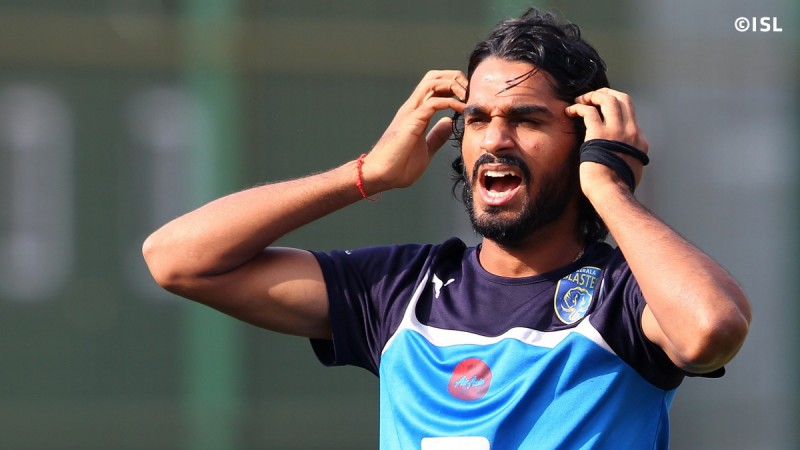 India tried their best but couldn't get the second win of the 2018 Russia World Cup Qualifiers as they went down 1-2 against Turkmenistan in their final game of the competition Tuesday at the JLN Stadium in Kochi. Defender Sandesh Jhingan remained the only goalscorer for the hosts.
It was a tale of two halves. While India were the better team by miles in the first half, the second half belonged only to Turkmenistan. Amanow and Atayew remained the goalscorers for the away side in the second half.
The hosts enjoyed the lion's share of ball possession in the first half and the idea of keeping the ball grounded actually paid off for Stephen Constantine's men. Their calm and calculated play, not giving much of an opportunity for Turkmenistan to create a proper attacking opportunities inside the box, remained the keys to success for India in the first half of the game.
Having deployed a 5-4-1 formation, Narayan Das and Sandesh Jhingan remained the two prominent names for the Blue Tigers in the first half. The header from Kerala man Jhingan in the 26th minute of the game for the first goal was just pin-point perfect. However, nothing could be taken away from Narayan's delivery of the ball from the free-kick.
As the match carried on, Narayan kept on using his strong left foot to go for the long shots and attempt some dangerous set pieces. Jhingan, on the other end, remained the no-nonsense defender from the start to the end, going into crunching and perfectly-timed challenges to halt the Turkmenistan attack.
The away side had a great chance to convert from a penalty in the 20th minute of the match after Turkmenistan skipper Amanow was fouled inside the box by Pritam Kotal. The resulting spot kick from the 26-year-old saw his grounded ball go miserably wide of the target.
That was the story of the first half.
The match shifted completely in favour of Turkmenistan in the second half of the game as the away side looked the better team by all means after scoring the equaliser and the winning goal in the half. Amanow put his first half penalty miss at the back seat as he capitalised on some loose Indian defence to dribble past them and slot home a cross from Geworkyan in the 48th minute of the match.
The Indian defence again paid the penalty as Atayew scored the winning goal in the 70th minute, taking all the morale out of the home side. Seityasen Singh, who came on for Udanta Singh late in the match, tried his best to go for the equaliser from a long-ranger but the Turkmenistan goalkeeper was up for the challenge as he tipped the ball away.
India pushed for the equaliser with few minutes to go, but this time a resolute Turkmenistan defence didn't let the home side get the glory.