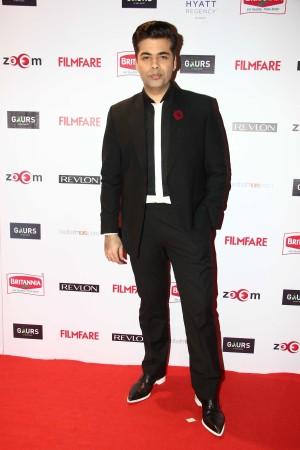 If taking down the AIB Roast videos from YouTube appears as an 'extreme' step, then this piece of news will redefine the word altogether.
Karan Johar, who was embroiled in the AIB Roast controversy along with others, has reportedly gone a step ahead and shelved a sex comedy Dharma Productions was scheduled to produce. To be directed by Sonam Nair, the filmmaker-producer decided to dump the project after he was left 'shaken'.
"Karan is shaken by the outcry and harsh criticism received on AIB Roast. Producing a sex comedy at this point will further dent his position personally. Also, given the fact that the Censor Board is now very stringent about passing adult content makes such a project unviable at this point in time. To not let Karan Johar's brand image take a beating due to this, it was decided to drop the project for time being. It may be revived if things change for the better," Bollywood Hungama quoted a source close to the development as saying.
Enough has been written and said about the jokes cracked at the event. While Aamir Khan called it downright 'violent' and 'abusive', Shah Rukh opined if one isn't comfortable, he/she shouldn't watch it.
Popular stand-up comedian Russell Peters, who appeared exceedingly furious with the "PK" actor's statement, said he should just shut up considering he is only an 'actor' who mouths lines written by someone else.
"Seriously, who is he, the so-called artist, to say that he found it violent and that AIB and rest involved should have been responsible? He did not even see it! Someone please ask him to shut up and take care of his own business," Hindustan Times quoted the Indo-Canadian funnyman as saying.
Interestingly, the younger lot came out in support of Arjun Kapoor, Ranveer Singh and the rest involved with the roast.
In other news, it was a live ticketed event held at a stadium in Mumbai. The show featured eight panelists ― Tanmay Bhat, Rohan Joshi, Abish Mathew, Ashish Shakya, Gursimran Khamba, Aditi Mittal, Raghu Ram, Rajeev Masand ― who took scathing digs at Arjun and Ranveer.