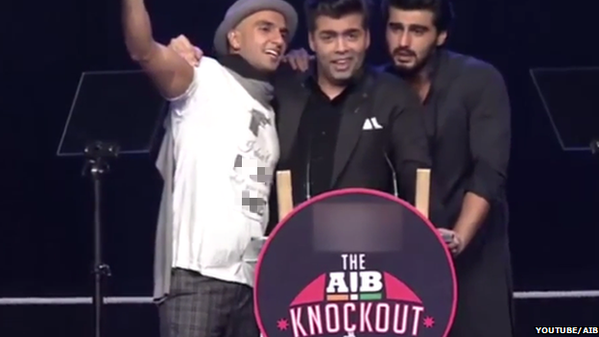 Ever since the All India Bakchod (AIB) Roast show featuring Karan Johar, Ranveer Singh and Arjun Kapoor released its video, the nation has been discussing and debating it.
Several police complaints have been filed against the participating celebs as well as those cheering from the audience, accusing them of having indulged in obscene behaviour and using abusive language in a public place.
There were also reports that the Bollywood stars may face jail term of five to 10 years and a fine of upto ₹2 lakh, if found guilty.
However, Johar has got a temporary relief. According to a report in The Times of India, the Bombay High Court has ordered the Mumbai police not to take any action against the filmmaker until the next hearing, which is scheduled for 16 March.
Last week, the court had restrained the Pune police from taking any action against the 14 people present on the show.
The FIR registered by the Mumbai police is based on a complained filed by activist Santosh Daundkar. The HC has clubbed FIRs registered in Mumbai and Pune and has now asked the state government to file its reply in two petitions, which seek to quash the FIRs.
AIB is a comic group comprising Ashish Shakya, Tanmay Bhat, Rohan Joshi and Gursimran Khamba. The AIB Roast panel also included former "MTV Roadies" head Raghu Ram, stand-up comedians Aditi Mittal and Abish Mathew and film critic Rajeev Masand.
The controversial AIB Knockout show featuring Johar, Kapoor and Singh was held in mid-December 2014 at Mumbai attended by about 4000 people. The edited version of the show was released on YouTube on 28 January. The video got over eight million views overnight after which the AIB team decided to pull down the video.