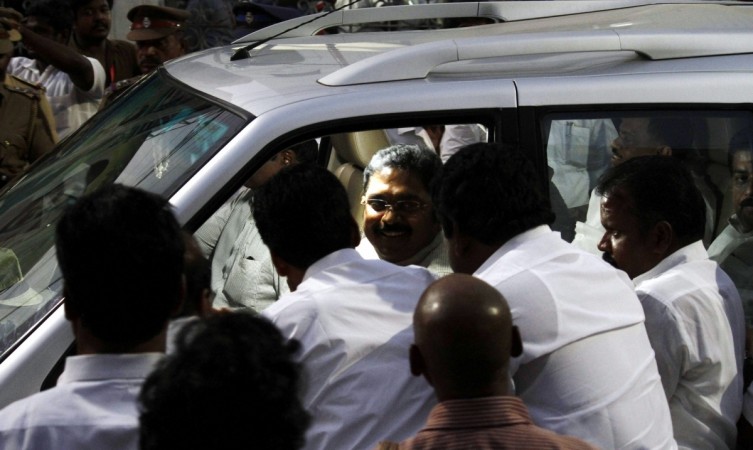 The talks of merger between the two factions of the All India Anna Dravida Munnetra Kazhagam (AIADMK) enter their third day on Thursday, April 20. And it is all so that the united entity gets back the Two Leaves election symbol with which it has scored several victories before.
Day One saw the O Panneerselvam faction — formally christened the AIADMK Puratchi Thalaivi Amma — demanding that the faction ruling Tamil Nadu — the AIADMK Amma led by VK Sasikala, alias Sasikala Natarajan — evict her and her nephew TTV Dinakaran. It was only after a late-night meeting that AIADMK Amma leaders acquiesced.
Day Two saw Dinakaran, who had just two days ago been booked for trying to bribe an Election Commission (EC) official to get the Two Leaves symbol for the AIADMK Amma, initially standing his ground, but finally yielding to the party's wishes.
Panneerselvam subsequently said Sasikala and Dinakaran's ouster was the "first victory," leading to speculation that he would continue to go after Sasikala, who has been accused of poisoning party matriarch J Jayalalithaa before she died in December last year.
That the merger between the two factions of the AIADMK will happen is a foregone conclusion for many. But what seems to have held up the formal announcement is a decision of what role OPS will play in the recombined political outfit.
Here are the LIVE updates on the merger talks from Day 3:
3:45 pm IST: Here comes a new rider: Panneerselvsam wants withdrawal of the affidavit that was submitted to the EC stating that Sasikala was the party chief. Playing hardball, or just being thorough?
3:30 pm IST: So overtly OPS has not demanded the chief minister's post. But are we to really believe that this topic did not figure in the talks?
3:15 pm IST: How come this is happening after so much hullaballoo?
1:30 pm IST: Is Vijaybaskar on the way out? Bigger question: Is this part of the merger?
12:55 pm IST: Even more support for OPS!
12:50 pm IST: Fresh push by Dinakaran?
12:35 pm IST: Howzzat?! Tamil Nadu has for a long time been governed by people who began in Kollywood, the Tamil film industry — from MG Ramachandran to Jayalalithaa and even M Karunanidhi. Now, fans of glamorous actor Ajith are urging him to take the political plunge! Wonder how his entry into politics will affect the AIADMK, the DMK and other parties.
12:30 pm IST: The talks seem to be finally headed somewhere!
12:20 pm IST: Interesting observation here. For context, read about the move Prime Minister Narendra Modi made yesterday to end VIP culture.
12:10 pm IST: "It was a friendly meeting with the governor and politics was not discussed," says Thambidurai.
12:05 pm IST: This is how the Aam Aadmi Party (AAP) reveals its role in the case against Dinakaran.
11:55 am IST: Is there a deal yet? There seems to be some indication of it.
11:30 am IST: The business of politics seems lucrative outside the residence of Panneerselvam.
11 am IST: There are three options in the talks. OPS can be both chief minister and AIADMK general secretary, something he will be lobbying for. The AIADMK Amma camp, meanwhile, will be lobbying for EPS to continue as chief minister and OPS to lead the party. A compromise
10 am IST: The OPS camp seems to be making sure there is no loophole in the ouster of Sasikala and Dinakaran, something they can exploit to return to the AIADMK. It will reportedly ask for Sasikala and Dinakaran's resignation in writing before merger talks progress.
9:30 am IST: And the BJP is being dragged into this once again. Dinakaran and some other AIADMK politicians had hinted that the saffron party might have been behind Sasikala and her nephew's ouster from the party.
Political commentator TS Sudhir says in an article published recently: " It is logical for EPS campers to believe that in the post-Sasikala era, they can be on the right side of the BJP, replacing Panneerselvam." EPS is current TN Chief Minister Edappadi Palaniswami.
9 am IST: AIADMK Amma sources are being quoted by local news outlets as saying that the possibility of a change of chief minister has been ruled out. Is that the merger going down the drain, or is there a different solution coming?
8:45 am IST: Here's some more evidence.
8:30 am IST: Support is being drummed up for OPS to become not only the next chief minister of TN but also the negeral secretary of the reunited AIADMK. The hashtag "#OPSForCM" is starting to gain steam.
8:15 am IST: One reason talks are still going on could be who will be chief minister after the merger. Panneerselvam could be trying to wrangle the post for himself.
8 am IST: Dinakaran was on Wednesday night served summons by the Delhi Police to appear before it in connection with the EC bribery case.
7:30 am IST: Sasikala and Dinakaran — who had been elected AIADMK Amma general secretary and deputy general secretary — may seem down and out of the political scene now, but they can make a strong comeback. Perhaps an indication of this came late on Wednesday night, when some Dinakaran supporters tried to immolate themselves in front of his residence.
Public support is the best show of strength, and Dinakaran could try to drum up support there. As for Sasikala, she may be in jail now but she is also Chinnamma, whom many an AIADMK office-bearer had begged to take over the reins of the party. Her comeback cannot be ruled out either.