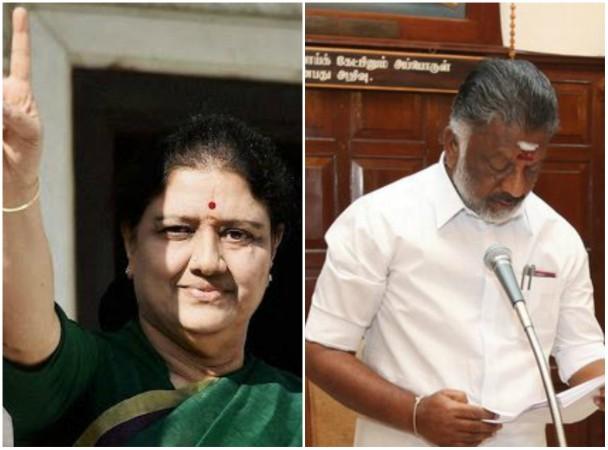 The two factions of the All India Anna Dravida Munnetra Kazhagam (AIADMK) — one of which is ruling Tamil Nadu — may be headed for a merger. After late-night meetings on Monday, April 17, the ball started rolling further on Tuesday morning, with committees being formed and conditions being apparently set.
Here are the updates on the talks:
9 pm IST: Unless there is some major U-turn late at night, there seems little chance of a merger today. The stalemate continues.
7:50 pm IST: TN MLA Thanga Tamil Selvan, who belongs to the ruling AIADMK Amma faction, says: "We won't accept any condition for talks. There cannot be any demands to remove Sasikala and Dinakaran." And therein we have a stalemate where the DMK could look for opportunities.
5 pm IST: And the back-and-forth continues, with no decision in sight yet. The Sasikala camp continues to insist that there can be no merger if OPS sets conditions like the one he has done.
3:20 pm IST: Meanwhile, check out the copy of the FIR against Dinakaran and one Sukash alias Sukesh Chandrasekar in the bribery case.
3 pm IST: Panneerselvam, meanwhile, has also called for a Central Bureau of Investigation (CBI) probe into the death of J Jayalalithaa in December last year. Many people, including AIADMK veteran PH Pandian, have questioned on the circumstances under which Jayalalithaa died, even hinting at Sasikala poisoning her.
2:25 pm IST: Now KC Palanisamy, a leader from the Panneerselvam camp, speaks up. He says: "Sasikala and her family have to be kept away. They should not have any role within party, directly or indirectly."
2:15 pm IST: Law Minister C Ve Shanmugam says: "No demands has been made by OPS till now. He has only said he wants to work unitedly. We are ready to talk whenever he wants to." Is this the calm before a stormy discussion?
1:10 pm IST: And now we have it, straight from the horse's mouth! O Panneerselvam says: "Dinakaran was not even a member of the party till Amma's demise. Election for office-bearers of the AIADMK was itself illegal."
He also tweets out:
Our founder MGR and Amma created this party as a party for the people and cadres, this is a Democratic Party for people and cadres.

— O Panneerselvam (@OfficeOfOPS) April 18, 2017
Party should not be in the hands of a family.

— O Panneerselvam (@OfficeOfOPS) April 18, 2017
In short, there should be no Sasikala or Dinakaran in the AIADMK Amma if the two factions are to be merged.
It may be mentioned here that when Jayalalithaa was TN chief minister and AIADMK chief, she had expelled Sasikala and members of her family from the party in December 2011. She was reinducted into the party in 2012, but not her kin.
12:30 pm IST: As the talks continue, rumours continue to emerge that tough times ahead for Sasikala and kin.
11:55 am IST: It seems the OPS camp has set the condition that Sasikala and his nephew Dinakaran must be cast out of the AIADMK if the two factions join hands. TN School Education Minister KA Sengottaiyan, however, says: "There are no talks on the issue of TTV Dinakaran and Sasikala [being expelled], nor did the OPS faction raise any question on it."
11:20 am IST: The Two Leaves has already taken a toll on the AIADMK: Sasikala's nephew TTV Dinakaran has been booked by Delhi Police for trying to bribe Election Commission officials to make them give the AIADMK Amma the poll symbol. The Delhi Police crime branch was supposed to visit Chennai today in connection with the case, but has postponed the visit, saying that the investigation in Delhi needs to be completed first.
11 am IST: Tamil Nadu Cooperation Minister Sellur Raju confirms the AIADMK Amma committee. He says: "A team consisting of senior ministers has been formed by us for the process of merger of the two factions. We are brothers from same family."
He adds: "The core issue with both of us remains the symbol of Two Leaves. In order to retrieve the symbol, both factions must work unitedly."
10:40 am IST: "I am happy," says Tamil Nadu Forest Minister C Srinivasan over the merger of his faction of the AIADMK with the OPS faction.
10:05 am IST: The AIADMK Amma has also reportedly formed a similar committee. The two panels will now hold talks and possibly bring about the merger.
9:30 am IST: O Panneerselvam says his faction of the AIADMK has formed a committee to hold talks with the AIADMK Amma faction for merger.
9 am IST: Both factions of the party — the ruling AIADMK Amma, which VK Sasikala aka Sasikala Natarajan allegedly rules from the Parappana Agrahara prison in Bengaluru, and the AIADMK Puratchi Thalaivi Amma, which is headed by former TN Chief Minister O Panneerselvam — are expected to hold several discussions throughout the day, and the decision to merge can come today itself.