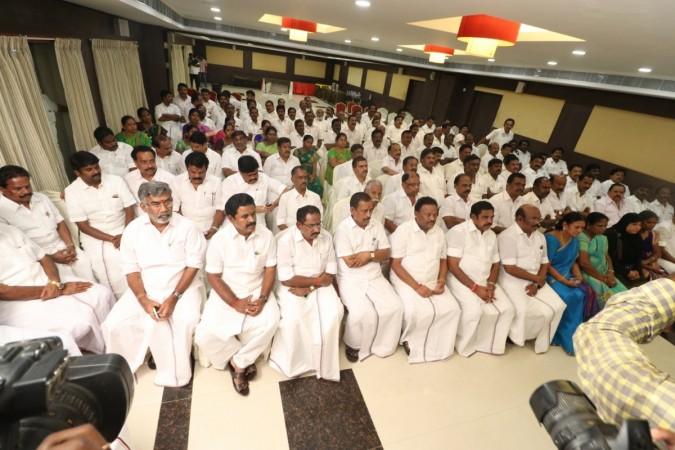 In a late night development following a day full of back-and-forth conditions and counter-conditions being set by the two factions of the All India Anna Dravida Munnetra Kazhagam (AIADMK) on Tuesday, April 18, most leaders from the ruling AIADMK Amma faction distanced themselves from VK Sasikala.
During the day, it had appeared that there was an impasse in the talks to merge the two sides — a move that would give back the united political outfit the Two Leaves poll symbol of the AIADMK on which MG Ramachandran and J Jayalalithaa won elections. However, talks progressed late at night and the development came after a demand to that effect from the AIADMK Puratchi Thalaivi Amma faction, which is led by former Tamil Nadu Chief Minister O Panneerselvam.
The AIADMK Amma faction leaders — barring a few — also distanced themselves from TTV Dinakaran, who had been left in charge of the party by Sasikala before she was sent to the Parappana Agrahara jail in Bengaluru in a disproportionate assets case. Dinakaran, who was to contest the RK Nagar by-elections, is currently under the investigation of the Delhi Police over allegations that he tried to bribe an Election Commission (EC) official to get the Two Leaves election symbol of the AIADMK.
Here are the LIVE updates for Wednesday, April 19:
4 pm IST: Dinakaran appears before a Chennai court in connection with a case registered against him by the Enforcement Department.
1996 FERA case: TTV Dinakaran, appeared before Economic Offences Court in Chennai in case registered against him by ED. Next hearing- May 10

— ANI (@ANI_news) April 19, 2017
2 pm IST: Dinakaran now takes to Twitter to repeat what he had said earlier. He also thanks the party for the support he has been shown so far.
எனக்கு இதுவரை ஒத்துழைப்பு நல்கிய அத்துணை கழக நிர்வாகிகளுக்கும் தொண்டர்களுக்கும் என் மனமார்ந்த நன்றியை தெரிவித்து கொள்கிறேன்.

— TTV Dhinakaran (@TTVDhinakaran) April 19, 2017
12:45 pm IST: Now the DMK is getting in on the act. "We met the Speaker [of the Tamil Nadu Assembly] and demanded an immediate Assembly session. We also waited to meet the chief minister, but he did not meet us," says DMK acting president MK Stalin.
He adds: "Today TN farmers are suffering. They are protesting in Delhi. We want to convene an Assembly session to discuss the issue." The protest has been going on for more than a month. Even the high court has weighed in on the issue. And yet this is the time the DMK chooses to talk about it.
12:30 pm IST: Dinakaran, meanwhile, has said he will also not contest the RK Nagar bypolls. Given that there were accusations of widespread bribery from his faction of the AIADMK in the run-up to the polls, which were subsequently cancelled, this comes as little surprise.
12:15 pm IST: Panneerselvam claims "first victory." Are there more to come?
Panneerselvam had on Wednesday demanded a CBI probe against Sasikala, following allegations from several people, including AIADMK veterans, that she had poisoned Jayalalithaa.
He also tries to assure harmony between the two factions.
Both factions will talk to fulfil the aspirations of party workers.

— O Panneerselvam (@OfficeOfOPS) April 19, 2017
12:05 pm IST: Now Panneerselvam speaks up. "Our struggle was only to keep Sasikala's influence away from the AIADMK," he says, adding that he does not want to be the reason behind the split in the party.
11:50 am IST: So Dinakaran's resignation is imminent. But he says he will quit as deputy general secretary of AIADMK Amma only after consulting the general secretary, which is Sasikala herself!
11:40 am IST: Dinakaran seems to have now accepted his fate. "If they [AIADMK Amma leaders] had conveyed their decision directly to me, I would have announced it to media yesterday [Tuesday]," he says about the party's decision to keep him and his aunt away from active politics.
He adds: "They have taken the decision out of fear. I appeal to them not to malign the party."
11:35 am IST: Is Dinakaran finally giving in? Local reports quote him as saying that he has "no regrets to be sidelined for the benefits of the party."
11:20 am IST: Troubles mount for Sasikala's nephew. "We can't allow TTV Dhinakaran into the AIADMK headquarters," says Law Minister C Ve Shanmugam. Dinakaran has called a meeting of party lawmakers at 3 pm today at the party headquarters.
10:40 am IST: The ball seems to be in the court of Panneerselvam now. He is the one everyone is looking forward to for a positive or negative reply, or more preconditions. How will he react to Sasikala's political ouster? Will it be enough for him to say yes, or will he take his chances by asking for something more?
10:15 am IST: Union minister Venkaiah Naidu says: "Neither the BJP nor the Central government has any role or any interest in what is happening in the AIADMK in Tamil Nadu. It is purely their internal matter."
9:45 am IST: Dinakaran either is in denial, or has an ace up his sleeve. He has told local news outlets that there has been no revolt within the Sasikala faction of the AIADMK, and that all leaders of the party are with him. He has also accused the BJP of trying to create rift within the AIADMK.
9:10 am IST: The big question now is if the two AIADMK factions merge, who will be the chief minister? While Edappadi Palaniswami — often referred to as EPS — holds the post now, OPS is clearly more popular and may be expected to take over the post he had held when Jayalalithaa was incarcerated. He also held the post for a short time after Amma's death.
9 am IST: Panneerselvam seems mollified with the AIADMK Amma decision to keep Sasikala and Dinakaran away from active politics, and has told certain sections of local media that a decision on the merger will come today itself.
8:30 am IST: The Delhi Police have reportedly issued a lookout notice against dinakaran, who is accused of trying to use a Rs 50-crore bribe to make the EC give the AIADMK Amma the Two Leaves election symbol. They believe Dinakaran may look to go underground or escape.
8 am IST: The TN unit of the BJP weighs in on the issue.
#TamilNadu Unit of BJP says merger move between two factions of AIADMK is driven by selfish motives.

— All India Radio News (@airnewsalerts) April 19, 2017
7:45 am IST: Dinakaran seems to be in no mood to relinquish his post. He has called a meeting of party MLAs and leaders at the AIADMK headquarters in Royapettah in Chennai later in the day. The meeting is expected to take place at 3 pm.
This is now a choice for the AIADMK leaders between Sasikala's group and the party's original election symbol, Two Leaves.
7:30 am IST: Late on the night of Tuesday, top AIADMK Amma leaders said Sasikala and Dinakaran would be kept away from "active politics". This is halfway towards the demand by OPS that they be expelled before the two AIADMK factions merge.