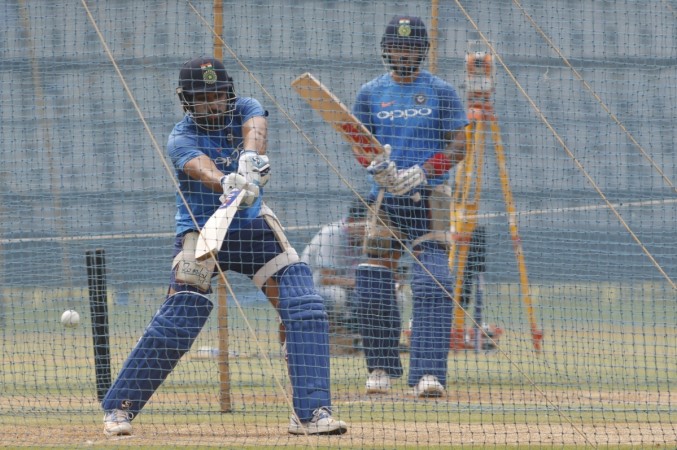 In Virat Kohli's absence in the Indian limited-overs team, stand-in captain Rohit Sharma did an excellent job by steering the side to 2-1 series victory over Sri Lanka in the ODIs. Now, the Mumbai batsman is gearing up to repeat the same in the three-T20I rubber starting tomorrow (December 20).
Also read: Smith matches 63-year record, leaves Kohli behind
Ahead of the opening game in Cuttack on Wednesday, Rohit needs to "share" something with his skipper Kohli. The Delhi batsman, who got married to Anushka Sharma recently, is currently enjoying his honeymoon in Europe.
Both Kohli and Anushka made sure that the replied to the congratulatory wishes they received from cricketers and other celebrities. Rohit too had wished the couple and had advised Anushka to "keep the surname". He had also written that he would share the "husband handbook".
"Congratulations you two! @imVkohli , I'll share the husband handbook with you. @AnushkaSharma , keep the surname," Rohit had tweeted on December 12, a day after Kohli's wedding.
This tweet was liked by more than 69,000 users and retweeted nearly 7,000 times.
Today (December 19), a week after that, Kohli took time off to reply to Rohit and asked him to share "Double Hundred Handbook" too.
"Haha thanks Rohit, and please do share the Double Hundred Handbook as well," Kohli wrote.
Haha thanks Rohit, and please do share the Double Hundred Handbook as well. ?

— Virat Kohli (@imVkohli) December 19, 2017
The 29-year-old Kohli as referring to Rohit's world record feat in ODIs. Recently he scored his third double ton (208 not out) in the 50-over format.
During the third and final Test in Delhi earlier this month, Kohli registered his secon consecutive double hundred. Team-mate Cheteshwar Pujara had asked him when he would score 200 runs in ODI format and he had mentioned he would try.
"Well, it (double hundred) is not something which I can plan. Openers have a better chance. Maybe if I get to bat early. (But) if the wicket is nice you rarely get to bat in the first two or three overs. When it is challenging you can go in as number three very quickly. You know that in Test matches also. I don't know.
"If we are batting first in some game and the wicket is nice to bat on, somehow if I get to bat (early). You know I don't want to be on the field in the first five overs because you want a good start. If I end up doing that, get a good start, maybe I can carry on. I have come close twice. But it is something which you can't pinpoint. Rohit (Sharma) has done it two times. I don't think that I can hit as many shots as him, in the later half of the innings. That is why he ended up doing that. He is unstoppable if he goes past 130 or 140. I will try to do it if I have enough overs," Kohli had said.
Kohli's highest score in ODIs is 183 and in the longer format it is 243.